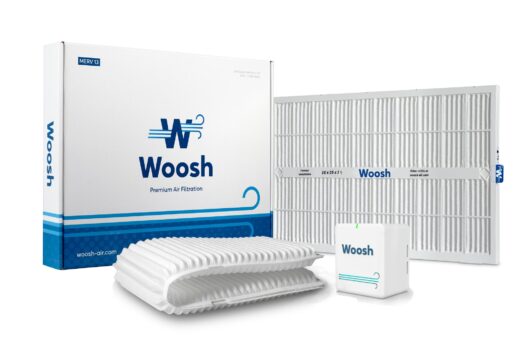 Like many businesses that appear on Shark Tank, Winston Mok's Woosh Smart Air Filter got noticed by producers on Kickstarter. Mok, a former Product Manager at Google, funded his vision for Woosh on the popular crowdfunding platform in March of this year (2022) to the tune of $62,817. They taped their segment sometime in July and Mok presents his product to the Sharks in episode 1404 on October 14, 2022. There's one problem though, they haven't shipped any product to backers as of the date they air.
The Woosh Smart Air Filter is the first of its kind (once it gets delivered). Not only does the filter mitigate smoke and viruses like Covid-19, it actually monitors the air quality in your home. When connected to a smart thermostat, it will trigger the blower in your HVAC system to turn on, thus filtering the whole house of the bad air. It even lets you know when the filter needs to be changed!
The filter itself is a reusable, rigid plastic frame. The special MERV Minimum Efficiency Reporting Value) 13 rated filter media swaps out when it's done being used. Most home filters on the market have a MERV 6 rating, so the Woosh Smart Air Filter is more than twice as efficient as what most folks are using now. The MERV ratings are on a scale of 1-20. Mok likely wants a Shark to help bring his product to market. Will a Shark see this opportunity as a breath of fresh air?
My Take on the Woosh Smart Air Filter
I know a thing or two about indoor air quality. Back in the 1990's, I founded a company called Mighty Duct, an air duct cleaning business up in Massachusetts. I sold the business when I divorced my first wife and they are still up and running. As the business owner, I became NADCA (National Air Duct Cleaners Association) certified. To be certified, you had to demonstrate proficiency in a lot HVAC knowledge and filter ratings and air quality were some of the things I had to know. A good filter won't do jack squat if the ducts are dirty, so make sure you get them cleaned. If you do, use a NADCA certified company and techs.
All that said, I think this filter is the future. We have "smart everything," why not a smart air filter. The fact that the thing tells you it needs to be changed is awesome. That's something a lot of homeowners neglect. Factor in that it actually purifies the air and this is a very big winner. I am in.
Will Sharks Woosh in and Make a Deal?
While I love this product, I am worried about the pitch. They haven't even produced a product for the market – everything is on a "pre-order" basis. Unless they have millions in pre-orders, this pitch could be in trouble. That's not to say they won't get a deal from a Shark who sees the vision, it just makes it more of an uphill climb. If the company does a deal with a Shark, it will be a Sharky one and ultimately won't close.