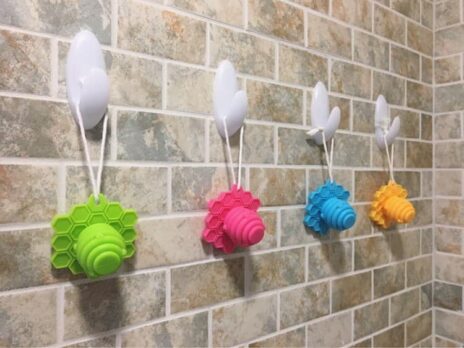 Amy Leinbach says her daughter Marlo inspired her to create BigBee LittleBee products. When she was two, Marlo wanted to do things for herself in the bath tub. Regular facecloths were too cumbersome for her, so she created the company's second product, the ScruBee. The first product was Clean Bee Reusable Multi Purpose Towels, which are no longer for sale on the company website. The ScruBee is a reusable, silicone scrubber for the bath. It was the first silicone scrubber on the market and it was a bit hit, selling very well. All their prodcts are designed with the idea of reducing single use plastics in mind.
From that invention came more – all inspired by Marlo. There's the Super ScruBee – a larger version of the original, the Marker Parker Coloring Organizer and the Build a Straw Easy Clean Silicone Straw. Amy got the products into Bed Bath and Beyond. When she first saw her products on the shelf in her local store, she was literally brought to tears.
So far, she's come a long way with her business. She wants to continue to innovate and invent with her daughter by her side. What's next remains to be seen, but she'd like a Shark to become another bee in the hive.
My Take on BigBee LittleBee
All of these products look useful. I'm not much of a bath time scrubber, but my wife and daughter have all sorts of bath products (loofahs, brushes etc.) in "their" bathroom. I can see the usefulness of the ScruBee with little kids. We probably would have been very interested in the product when our kids were smaller.
As for the other products, the marker organizer looks like a cool tool for the budding artists. We would have needed a bunch of them for all the markers we used to have lying around. The straw doesn't excite me though. It seems like everyone and their uncle is making reusable straws these days.
Will Sharks Like These Bees?
Straight off the bat, I don't think Mark or Kevin will be interested, unless sales are strong and margins are good. If that's the case, we'll see a royalty offer from Kevin. These kinds of products just aren't in their wheel house. I'm not sure what Emma will think, but I'm leaning toward her not making an offer. That leaves Lori and Robert.
For the past couple of seasons, Robert has been playing the "I'll make and offer, then rescind it" game. When an entrepreneur wants to hear offers other than his, he gets snooty and sulky. For me, the act is getting old. As for Lori, she's had a good history with silicone based products. She'll reference the success of Baby Toon. That business was a silicone baby spoon/teether that she successfully licensed. Lori has other silicone product businesses too. I expect an offer from her.