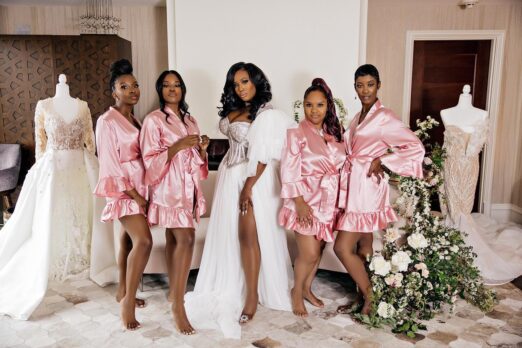 Ashley Young first got the idea for Bridal Babe when she was planning her own wedding. She was trying to find bridesmaids dresses for her bridesmaids and she couldn't find any that would make her friends "look and feel amazing by my side." Ultimately, she decided to make her own. She wanted dresses for women of color in bold colors with designs that accentuate their curves.
They took a lot of pictures of the dresses and posted them on Instagram. The photos went viral and Ashley had an "AHA moment." She realized people wanted what she made, but they had nowhere to get them. That's when she and her husband Charles decided to start a business. Unlike traditional dress shops, Bridal Babe is virtual. Consultations are done by video call, unless you're in the greater Baltimore area. Brides to be and their bridesmaids review the designs online and talk to Ashley about what they want. She'll send them swaths of fabric to examine too.
Initially, Bridal Babe offered bridesmaids dresses, but now they offer wedding dresses too. Their virtual model allows them to keep prices low while offering a quality product. Even though she's targeting curvy women of color, if the business model is successful, other bridal dress businesses may copy her. She likely wants a Shark's help with the tech side of things when she pitches in Shark Tank episode 1405.
My Take on Bridal Babe Dresses
I've done the wedding thing twice. They call the second marriage the "triumph of hope over experience." I'm 25 years and going strong with my second wife. Both my weddings were VERY different. My first wife was a bit of a principessa. We got married at the Ritz Carlton in Boston and it was quite an event. I did not get involved with picking dresses or any of that part of the wedding planning process. All I could say was "I'm sure that will be fine dear." I wish the Bridal Babe $300 dresses were around back then!
My second wedding was a very informal affair at the beach. In the rain. I got married in a windbreaker! My wife wore a simple dress and we had a clambake for our dinner guests. She isn't much for fancy stuff, which is why we are lasting as a couple. Think "high maintenance vs. low maintenance." I have three more daughters to marry off. I might suggest Bridal Babes to them when the time comes, but I'm sure I'll just mutter those magic words: "I'm sure that will be fine, dear."
Do Sharks Get Dressed?
I can't see any of the Sharks going for this with the exception of two: Emma Grede and Mr. Wonderful. While Mark and Robert invested in several apparel related businesses, I don't think wedding dresses and bridesmaids dresses are up their alley. Lori isn't into this sort of business either.
Emma is a fashion icon at this point. She started Good American with the idea of selling jeans to curvy women. Since Ashley is focused on the same market, there may be some synergy there. Mr. Wonderful is famous for his stable of wedding related businesses and he could market this virtual dress shop to millions of people on his list. I see offers from both of these Sharks and perhaps even an historical partnership with Emma and Kevin.