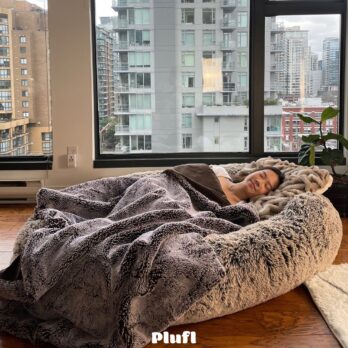 Kickstarter is where the Shark Tank producers found Plufl, the human dog bed. Two college kids, Yuki Kinoshita and Noah Silverman, got the idea for the product when they saw a dog resting peacefully on a dog bed in a local coffee shop. They thought it would be a good ways to take naps during the day on campus if they made a human dog bed, so they did.
Kickstarter was kind to them. They raised $290,657 in May 2022, but they haven't delivered and beds as of October, 2022, but they're "loading their containers" as of that date. When they taped their segment in July, 2022, they hadn't delivered one single Plufl. As of the date they air, they are still available on a pre-order basis only.
The guys claim the memory foam and raised pillow not only provides for a comfy spot to nap, it also reduces anxiety. That's partially due to the side pillows surrounding you and the fact you can tuck limbs between the "mattress" and side pillows. It's also lined with soft, faux fur. The guys likely want a Shark's help lowering production costs and getting more inventory.
My Take on The Plufl Human Dog Bed
I usually don't like to bash Shark Tank entrepreneurs, but I think this is a pretty ridiculous product. While I don't need to nap in places other than my home (because I work at home), I wouldn't want to tote it around a college campus. Maybe I'm just getting old, but the idea of that is very unappealing.
Another reason I don't like it is the cost. At $499, it's an expensive bed. It's only $100 less than the cost of my first car! You can buy off brand memory foam mattresses for under $200. We have a Tempurpedic and 2 off brand memory foam mattresses in our house. I wouldn't drop $500 for a human dog bed.
Do Sharks Like Naps?
I don't think these guys get an offer. First, the Sharks will probably think it's just as dumb as I do. Second, they haven't delivered anything, so they're really pre-revenue. Third, I think they'll be put off by the price. If they get a deal, I'll be shocked.