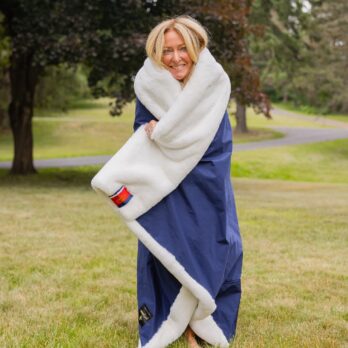 Tracy Slocum started PrettyRugged to stay warm and dry on her boat on Lake George in upstate New York. She has boating in her blood. Her great great grandfather, Captain Joshua Slocum, was the first man to sail alone around the world. When Tracy went looking for something to keep her warm and dry, she remembered Captain Slocum wore furs on his journey to stay warm. That's when she decided she was going to make a waterproof, rainproof and windproof faux fur blanket she could use on her boat.
Unlike Captain Slocum, she used 21st century materials. One side of the blanket is luxurious faux fur and the other side is a kind of windbreaker material made from RuggedTex™ and SatinTex™. The result is a warm, dry blanket that's both comfortable and functional. After she made it, she found it was also good at chilly high school football games. Friends and family were impressed with the blankets and in 2017 Tracy started selling them under the brand name PrettyRugged.
Tracy has a lot of experience in the clothing world, so it wasn't long before the blankets developed into a whole line of outerwear. In the five years since opening the business, she has over $8 million in sales. Her business is at the point where, with the right moves, it can become a global brand. Currently, she sells on her website, dozens of small boutiques and Amazon. She wants a Shark to accelerate growth and get mass distribution.
My Take on PrettyRugged
I did a lot of sailing in my younger days. We went offshore and even sailed from Marion, Massachusetts to Bermuda once. Staying warm and dry was always a challenge. Once you get wet , it's hard to stay warm unless it's a hot summer day. Even then, with the wind, you can still get a chill. I would have loved one of these blankets back in those days.
Currently, other than the blankets, the apparel and outerwear appears to be targeted towards women. She should develop outerwear for men too – she's missing half the market! Since I live in Florida, I don't need that kind of clothing unless I'm heading north, but we try to limit those trips to the summer months. I'd love one of those blankets though.
Will Sharks Get Pretty Excited About This?
Tracy has one big thing going for her going into the Tank: sales. This should draw out some offers unless her valuation is out of whack. She has a good backstory too. I wouldn't be surprised to see a feeding frenzy. Any of the Sharks could have an interest. I expect a Shark fight.