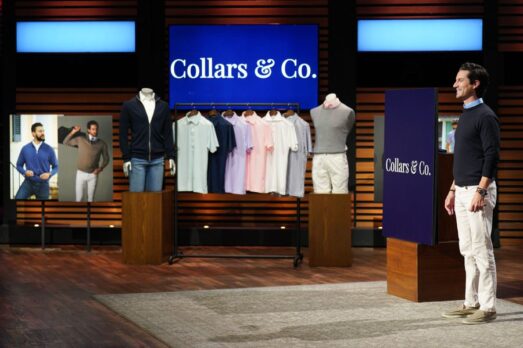 Collars and Company founder Justin Baer is no stranger to entrepreneurship. He's founded six companies prior to his latest venture, one of which – a niche texting business – he still runs. The shirt business he's pitching in Shark Tank episode 1408 started as a small test with a 500 shirt order in 2021. Little did he know a Tik Tok video his daughter shot would go on to have over one million views. That put Collars and Co. on the map immediately.
Not only did he sell out of his small inventory in a day, he had thousands of back orders. Supply chain problems nearly sank him before he could get started, but he made it through the high freight charges and other issues that plagued so many businesses during the Covid-19 pandemic.
The Shirts themselves are basically golf shirts with a dress shirt collar. Justin didn't like the feel of dress shirts, but he needed that professional look while conducting business in New York City. With his new shirts, he had the look of  a dress shirt with the comfort of a golf shirt. Apparently, a lot of other guys wanted the same thing because sales are growing by 40% per month. Managing explosive growth can be difficult, but a Shark can surely help.
My Take on Collars and Company
I used to wear a suit and tie every day when I worked in telecommunications sales in the 1990's. When I switched to the mortgage industry, I sometimes wore a suit and I sometimes wore "smart casual," it depended on who I was meeting with. When I entered the world of blogging and internet marketing, I became a very casual dresser. My standard "uniform" is now a tee shirt, shorts or a bathing suit and flip flops. I have one black suit for weddings and funerals.
When I get "dressed up" to go out somewhere like the country club or a nice restaurant, I'll wear chinos or "nice shorts" and a golf shirt or Hawaiian Shirt. I'd probably like Collars and Company shirts. They have a lot of cool looking styles and at $69 to $75 they aren't too expensive. They supposedly boast "buttery" material, so they sound as comfy as they are stylish. I'm in.
Will Shark Like These Shirts?
One thing Collars and Company has going for it is sales. The question is, with the aforementioned supply chain issues, are there any profits? If there are, we could see a feeding frenzy. In the video tease of this episode, Peter Jones is seen holding a shirt and saying he could "take this global." I think we'll see an offer from him – he has his own clothing line for crying out loud!
As for the other Sharks, if the numbers are good, I think we'll here offers from all of them, except maybe Lori. We might also see Mark or Kevin teaming up with Peter. Daymond could throw his hat in the ring as well. I'm predicting a deal here.