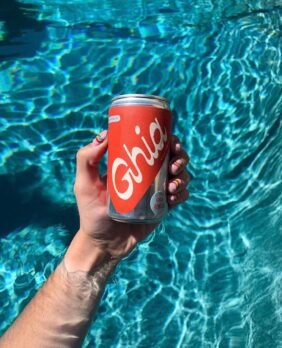 Melanie Nasarin created Ghia Aperitifs out of a sense of nostalgia. When she was a kid, she'd watch her mother and grandmother make limoncello. Limoncello is made with lemon zest, neutral spirits and sugar or sweet syrup. It was invented in the early 1900's in the southern part of Italy. Exactly who invented it or exactly where it was first made is an ongoing debate, but it became a tradition to sip it after dinner in southern Italy, usually from small, chilled ceramic cups.
Melanie remembers sipping the aperitif at night while family and friends made music and conversation. She always liked it, but she wasn't a fan of the "mind numbing effects" of alcohol. After spending her professional career in finance, corporate strategy and branding, she took the plunge and started Ghia Aperitifs in 2019. She's gained quite a following since then.
In addition to the aperitifs, she also sells a non alcoholic spritzer that comes in three flavors: Ghia Soda, Ghia Ginger and Lime & Salt. She sells on her website and at over 750 independent grocers, liquor stores and bars. While the beverage are designed to appeal to folks who want a sophisticated non alcoholic drink, some people use them as mixers too. The non alcoholic ready to drink cocktail market is projected to top $800 billion in a few years, so Melanie has Ghia Aperitifs poised for growth. Will a Shark see it that way when she gives them a taste in episode 1404?
My Take on Ghia Aperitifs
I've tasted limoncello before. It's tasty, but a bit too sweet for me. When I drink alcohol, it's usually bourbon on the rocks, a martini or a glass of wine. If I don't want an alcoholic drink, I'll have water or something else that's light like iced tea. I don't think I'd like Ghia Aperitifs, but the spritzers sound interesting.
Melanie has a lot of recipes for mixing drinks with her products on her website. Some of them look interesting, but I'd slip some vodka in them! No offense to Melanie, but I'm probably not a customer. When I want a drink, I WANT A DRINK!
Do Shark Like Aperitifs?
Beverages of any kind are a tough sell in the Tank. There are a lot of challenges with distribution and branding. While there have been some successful beverage companies in the past, there are far more unsuccessful ones. Not only is this a new business, it's a new category.
If she has strong sales numbers, she might have a chance at a deal. Lori, Daymond and Robert will go out. If Melanie is looking for a deal, it'll have to be from Mark or Kevin. Both Sharks have beverages in their Shark portfolios, so they've been down that road before. I'm not sure if they'll make offers, but any offers made will come from one of them.