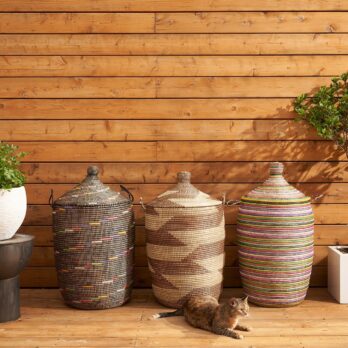 Sofi Seck started Expedition Sub Sahara for a variety of reasons. One was her dissatisfaction with her career as a photographer. Another was she wanted to change people's perception of Africa. Most people in the USA perceive Africa as a continent filled with poverty. Sofi's recollection of her homeland in Senegal as a "place full of joy and vibrance, abundance and beauty." Sofi was born into the Wolof tribe and a part of their culture is the women weave baskets to sell in local markets and store goods.
Almost five years to the day she started her business, she'll be pitching her business in the Shark Tank. She originally started the company with a Ugandan women who later stepped away from the business. Now, she carries on the mission alone – sort of. She employs over 120 Senegalese women in her home country. They weave the baskets from sweetgrass and colorful fibers and ship them over here. Sofi pays her weavers a living wage and she also pledges a portion of her sales to build a school for girls in her home country.
She sells the baskets on her website exclusively. They can be used as hampers, accent pieces, storage containers and more. Prices vary according to the size of the item. For instance, a set of coasters from Expedition Sub Sahara costs $29 while one of the large, hamper-sized baskets costs over $200. Sofi's at a turning point with her business and wants a Shark to help her get to the next level so she can build her school.
My Take on Expedition Sub Sahara
I find these baskets attractive. Storing clothes in one of these as opposed to a plastic bin is just as functional, but with more pizazz. We used to have a similar basket as a hamper, but we had to throw it out when it got moldy during our move south a few years back.
I'm pretty set on storage and baskets for now, so I'm not a likely customer, but I'd keep it in mind for the future. I think she'll tell an entertaining and heartfelt story in the Tank. I'm just not sure if the Sharks will share her passion.
Will Sharks Weave a Deal?
I don't think Mark goes for this because it's not in his wheelhouse. As for Kevin, he could make some sort of royalty offer, but he will probably pass too. Whenever a business of color appears in the Tank, there's a lot of pressure from the African American community for him to invest. Sometimes he does, sometimes he doesn't.
As for Lori and Robert, I'm unsure. If Lori thinks she can sell the baskets on QVC, she may make an offer. Robert likes direct to consumer, online businesses, so he could make an offer too, but expect it to be "Sharky."