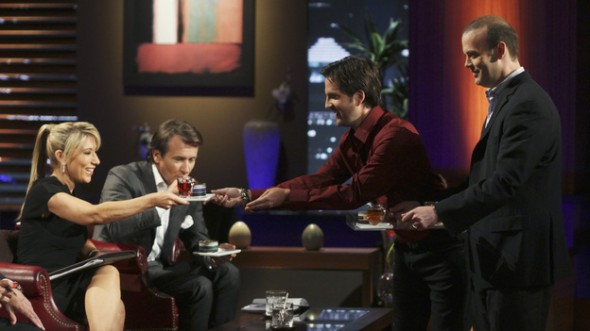 Talbott Teas entrepreneurs Steve Nakisher and Shane Talbott entered the Shark Tank in episode 303 with everything going for them: they had a quality, niche product; strong retail distribution; demonstrable, increasing sales; a vibrant direct sales business; expansion and branding plans are in place; and an exit strategy. They also had the "Oprah factor," Oprah called the teas one of her "favorite things." Steve and Shane also had a sizeable chunk of their own funds invested, $300K; the Sharks always like when entrepreneurs have a good-sized stake in their own businesses. On top of all this, the Sharks liked the taste of the tea!
Talbott Teas in the Shark Tank
Steve and Shane were looking for $250k for a 20% share in the business. Daymond really likes the Talbott Teas guys and their story, but he explains he's tied up with another tea business, so he goes out. Mark likes the business, but he's not a tea person, and he's out too. Mr. Wonderful likes everything about Talbott Teas and offers $250K for 40%. Robert and Lori agree with Kevin's appraisal of the business, but they go out anyway. In an unprecedented negotiation, the guys negotiate Kevin down to $250K for 35% and they strike a deal.
Talbott Teas Shark Tank Update
A few days after the Talbott Teas episode aired, Daymond released this video on YouTube:

Daymond got in on the deal with Kevin (he extricated himself from the deal he was in during taping) and  announced that he and Kevin were able to get the tea into "the Jamba Juice family." The video states the Talbott Tea guys, Steve Nakisher and Shane Talbott, would be in all the Jamba Juice stores next fall, while still retaining all distribution rights with their current retail relationships.
The company got a follow-up segment in episode 314 and Steve and Shane announced they are rich! The reason is not only did Jamba Juice agree to distribute the tea, they acquired the company for an undisclosed amount in February, 2012 – just  a few days before their episode aired!  Jamba Juice later sold the brand to Tadin Herb and Tea.
Posts about Talbott Teas on SharkTankBlog
Company Information
BUY Talbott Teas