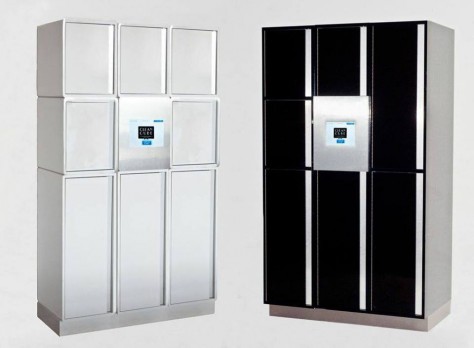 Arthur Shmulevsky and Ryan Agran pitch The Clean Cube, their "automated doorman service" to the Sharks in Shark Tank episode 708. The Clean Cube places locker-like cabinets in apartment building lobbies. Residents get a PIN number to open and activate the lockers. If you wanted to schedule dry cleaning pick-up, you'd punch in your PIN and the system would tell you which lockers are vacant. Place your dry cleaning in the locker and it's picked up and returned without you having to wait or leave your stuff in an unsecure location.
The Clean Cube also offers package delivery services. When you order something to be delivered, have it shipped to The Clean Cube offices. They will deliver it to a secure locker in your building and let you know via text or email it's arrived. You can also send packages the same way, donate to Goodwill, or even put items in storage. The Clean Cube is also developing refrigerated lockers for home food delivery.
The Clean Cube currently has their lockers in 40 buildings in New York City, they plan to have 1,000 buildings in 4 years. Property owners love the service because it provides a value added amenity for their building and residents enjoy the security and convenience. Costs to ship or receive a package is just three dollars. Wash and fold service is $1.15 a pound, and dry cleaning is the same cost as if you dropped it off. Shmulevsky marks up the pricing on services that serve all Clean Cubes in the city, so he's making money on the back-end.
The Clean Cube likely needs money to fund their expansion and for increased storage, laundry, and dry cleaning space. Will they clean up with a Shark?
The Clean Cube Shark Tank Recap
Arthur and Ryan enter the Shark Tank seeking $300K for 10% of their business. They talk about the increasingly "on-demand" world we live in and how many people struggle with the "last mile" when it comes to on the demand economy. Clean Cube is their solution to the issues with the "last mile."
They have a Clean Cube onstage and they ask Barbara to come up and try it out. She uses her password to drop off some dry cleaning in a vacant cube and to pick up a package for Mark in another cube. They want cash to grow and scale the business. They have Clean Cubes in 40 buildings – the smallest has ten units, the largest has 168 units.
Kevin wants to know how many Clean Cube units they need per building and the guys say it's about 7 apartments to each Cube. When Kevin objects and thinks landlords will want to charge rent, Arthur explains the last three buildings actually paid them to place Clean Cubes in the building. Barb gets it: she says buildings with a doorman can charge more rent and Clean Cube will allow landlords to charge higher rent.
The company did $130K in sales last year, half of which was in the last three months. Robert says he doesn't like the foot print; he's out. Kevin thinks each location will result in protracted negotiations, which will be a pain in his behind; he's out. Lori knows there's a huge problem they are solving, but she thinks they're still figuring it out; she's out. Mark thinks they're in the right place, but doesn't see a "wow factor;" he's out. Barbara doesn't see it as a big play, she's out too.
RESULT: NO DEAL
The Clean Cube Shark Tank Update
The Shark Tank Blog constantly provides updates and follow-ups about entrepreneurs who have appeared on the Shark Tank TV show. While the business managed to get into 40 residential buildings in New York City, they closed their doors in November, 2015 after 3 years in business.
Posts About The Clean Cube on Shark Tank Blog
Company Information
Video