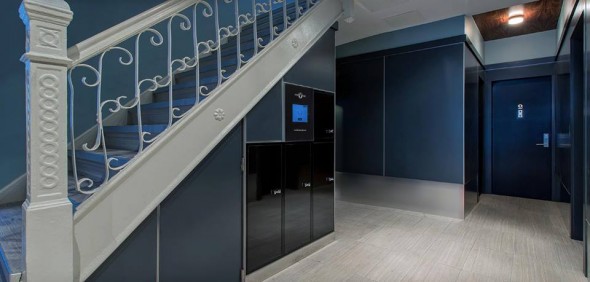 Arthur Shmulevsky and Ryan Agran are two former Morgan Stanley trading desk jockeys who want to bring the automated doorman to one thousand buildings in New York. They'll pitch their business, called Clean Cube, in Shark Tank episode 708. The business was started by Shmulevsky when he got tired of schlepping his laundry to the dry cleaners after long days on Wall Street. He wanted to find a convenient way to have mundane chores – like laundry and  package delivery – taken care of in a building that didn't have a doorman.
He set up a service that places various sized, locking cabinets in building lobbies. Tenants only pay for the services they use and the cabinets are placed for free. Clean Cube makes its money by getting the dry cleaning and laundry at a negotiated discount and providing the service at "retail" and charging for receiving packages. To use the service, tenants get a personal ID number and password and enter what they want on the Clean Cube touchpad. They place their request and put their dry cleaning in a locked cabinet. The cleaning is taken out and brought back to the same cabinet. Clean Cube hopes to provide grocery delivery to refrigerated cabinets in the near future, too.
This service fills a niche in New York city. Most doorman attended buildings are for the wealthy, but there is a whole other tier of tenants who would use these services. There are Clean Cubes in 40 New York City buildings now and the company hopes to scale up to 1000 in the next four years.
While only in New York city for now, Clean Cube could expand to other urban areas. Any city with a need for these services in apartment buildings could be a potential market. The trick is scaling the business since it relies heavily on people providing the services.
My Take on Clean Cube
Clean Cube is a new millennium twist on the old-fashioned delivery and errand service. Grocery delivery is making a comeback, as is dry cleaning delivery. When I had to wear a suit to work every day, I used to get my dry cleaning picked up and dropped off regularly. I lived in the suburbs, so parking was never an issue as it is in a big city like New York. I also used to get meals and groceries delivered for a while.
In New York, if the building doesn't have a doorman, security is an issue, so the added benefit of locked cabinets will appeal to a lot of people. If I lived in the city and had a Clean Cube in my building, I'd probably use it. Congested areas are a boon for the "on demand" economy, since getting even the simplest chores done takes so much time. I believe there is a market for this service in New York and elsewhere.
Do Sharks have a doorman?
The secret sauce to Clean Cube is twofold: placement and execution. The Clean Cube cabinets need to get placed in buildings where enough people will use the service. Once that's done, the service needs to be top-notch. Nothing would kill this business faster than mis-delivered items or damaged packages. Executing on the proposed grocery delivery service is vital to the future of the business, too.
The Sharks will see the common sense solution Clean Cube provides, but the numbers are what will turn them on. Each cabinet, which Clean Cube installs free of charge, costs around $2,000. This makes for a period where there needs to be strong usage in order to justify the "investment" in a given building. The margins are also quite thin, meaning usage must be near constant by tenants to make consistent profits. There are also potential issues with the cost of replacing cabinets in the future. The numbers best be more than hypothetical if Clean Cube wants to net a Shark.
I don't think Robert or Lori will go for this. Mr. Wonderful might make a bid, but Barbara Corcoran would seem to be the ideal partner for Clean Cube. She has a lot of connections in the New York real estate world and could provide a big boost for unit placements. If the numbers work for her, she could be a player. Mark will like the "on demand" aspect of the business.
There's one problem though, Clean Cube's website and social media make no mention of their Shark Tank appearance. Their last social media post was back on August 6. Time and time again, this is an indicator of a business that doesn't get a deal – and one that doesn't understand the Shark Tank effect. While this is a combination on demand logistics and real estate play, I don't think Barbara or Mark bid on this business.