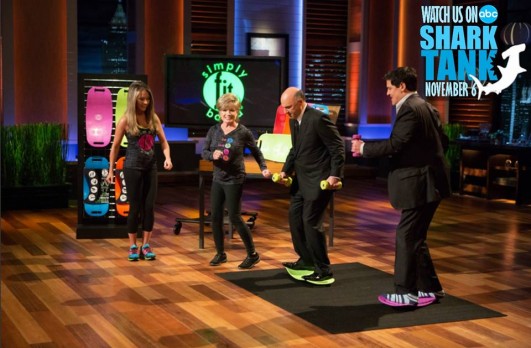 When you see Linda Clark and Gloria Hoffman twisting away on their Simply Fit workout board, you can't help but smile. They definitely love their product and enjoy demonstrating it, and they do it with such enthusiasm. Their product reminds me of a 1970's product called the Disc-o-Trimmer, a disk you'd presumably do "The Twist" on to help lose weight. The Simply Fit is a bit different, though. It has no moving parts – it's part balance board, part twisting machine and a whole lot of fat-burning fun. The mother/daughter team pitches the Sharks in episode 708.
The thing that makes Simply Fit special is the shape of the board. Because of the way it forces you to balance on the board, it gives an additional core workout beyond the twisting motion just by standing on it. They have an entire regimen of exercises crammed into a ten minute daily workout. Based on Linda's "before and after" pictures and the testimonials on their website, Simply Fit simply works.
Simply Fit is made from a rigid plastic and can be used on any rigid surface. They're made in America – right in Lamar, Colorado. For $44.95, they'll ship one of their five brightly colored boards right to your door. They claim over 28,000 units sold – putting sales at well north of a million bucks!
My Take on Simply Fit
Simply Fit looks like a fun way to get a quick and efficient workout. I've been walking, biking, and swimming the past few months to get back into shape, but sometimes breaking up the routine is a good thing. There appears to be no plateau with Simply Fit – if you believe their claims and testimonials. What I like about it is the core and back strengthening aspects of the product: you don't need to do sit-ups to work the core and back because of the balancing feature – it's almost automatic.
I usually don't go in for exercise gadgets, but this one provides a low impact, simple work-out that would be a nice, low-impact addition to my current regimen, especially on rainy days.  I am IN on Simply Fit.
Will a Shark find the right fit?
Simply Fit has a lot going for it entering the Tank – a fun pitch, a simple and low-priced product, and SALES. The Sharks loves solid sales numbers. While I like the product and I think the Sharks will too, I think there's one big thing that could frighten them: liability.
The disclaimer at the bottom of the Simply Fit webpage states: "The products presented are designed to challenge and improve your balance skills. When using this equipment, you must accept full responsibility for the risk of injury to yourself and others. Please read and fully understand all instructions before using these products."
That's a pretty strong disclaimer and I don't think a Shark wants to get into a business where someone could fall, crack their skull, and sue the pants off everyone involved. What you'll hear are the Sharks saying things like "you can do it on your own."
While the Sharks will all like the product and it won't be a "train wreck" pitch, Simply Fit simply won't get a deal; but I bet they sell a TON of exercise boards!