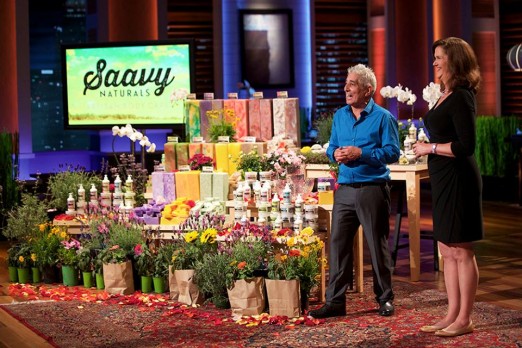 When you think of soaps, shampoos, and body lotions, you don't think of snacking, but Saavy Naturals may have you doing just that after they pitch their line of edible soap products in Shark Tank episode 708. Saavy Naturals is the brainchild of former chefs, restaurateurs, and avid organic gardeners Hugo and Debra Saavedra. They've always used freshly grown, organic vegetables, herbs, and oils in their food, now they used the same ingredients in their soaps.
The Saaverdas know the skin absorbs what you put on it, so when they forayed into soap making, they stuck with what they knew. They use only food grade ingredients in their products, so they actually do produce edible soap! All their products are made in small batches in a "kitchen-factory." They use only all natural, vegan, gluten-free, soy-free, palm free, non-GMO, responsibly sourced ingredients in their soaps, shampoos, scrubs and lotions.
They've had success selling in local farmer's markets and they started gaining traction in natural food stores in the past year. Products include bar soap, creams and lotions, scrubs, shampoos, liquid soap, and candles. They probably want a Shark to help take them national by expanding production.
My Take on Edible Soap
While edible soap may be a novel idea, I'd likely stick to using the stuff on my body. At six bucks for a bar of soap, it's on the pricey side – even for a novelty snack. Saavy Naturals is something my wife would give (or get) as a gift; women LOVE giving each other gift baskets of soap for some strange reason!
I'm not likely a consumer of this item, edible or otherwise. Edible soap just isn't my cup of tea, but I'd probably snag a bar out of one of my wife's gift baskets!
Do Sharks Eat Soap?
Soap, whether it's edible soap or not, doesn't fare well in the Shark Tank as a rule. Robert did "invest" in You Smell Soap in season three, but he never closed the deal. SWAG Essentials didn't get a deal last season, although they did get an update this season.
Soap is a commodity product. There are tons of consumer brands and any time you go to a farmer's market, there's bound to be a vendor selling some sort of hand-made soap. The point is, the market is crowded. It's going to take HUGE sales numbers to get a Shark interested.
That said, Saavy Naturals has a very unique product. The edible aspect speaks to the purity of the product. There are growing concerns about what we're putting in – and on – our bodies by a large segment of the population. Their message might be enough to get them a deal, particularly if they don't have an outrageous valuation. The thing that makes me think they get a deal is they recently amped up their website and they've been "out there" on social media for several weeks. They're doing the pre-show type of hype and PR that says "we're getting a deal."
Robert probably won't ever invest in another soap business. Mark already has a deal with Hot Tot and Sugar Scrubs – I don't think he'll add edible soap to his beauty care portfolio. Lori would seem a logical choice – she could sell Saavy Naturals on QVC. Perhaps Mr. Wonderful can find room for them in his "platform of love." Barbara could also take a flyer. I think one of those three Sharks ends up biting on edible soap.