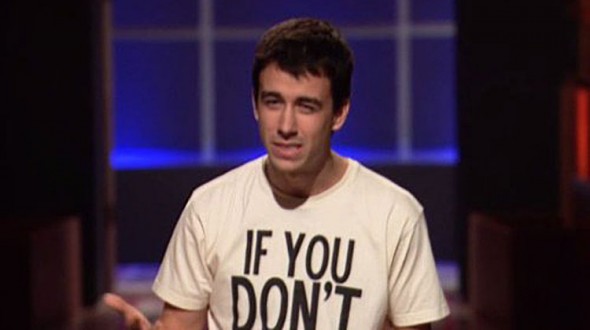 Minnesota native Nate Berkopec brings his clothing line, The Factionist, to episode 113 of the Shark Tank, hoping to bait the Sharks into supporting his fashion-design dreams. As an NYU student, Berkopec believes that his fashion line, casual wear made with environmentally friendly practices and emblazoned with social awareness logos, will become the next hot commodity.
As a business student, and also a member of his own target demographic, Berkopec is confident that the Sharks will see the potential in his world-changing fashions. Will the Sharks bite, or will they swim away from this idealist and his line of forward-thinking clothing?
The Factionist Shark Tank Recap
Berkopec begins  his spiel by asking for a $30,000 investment in exchange for a 20% stake in his company. He explains that today's young adults are among the most socially aware generation of our time. He displays tee shirts sporting quotes like "1.75 billion people live on less than $1.25 a day. Buy fair-trade."
Berkopec says that "The Factionist is not just another apparel brand. It's a movement."
Kevin O'Leary is skeptical. "Wow, you're going to save the world?"
Berkopec is ready for him. "Yes, but I'm going to make money doing it."
Robert Herjavec questions the business model. Berkopec has sold $3,000 worth of shirts. He's buying ethically produced shirts, screen-printing the sayings on them, and selling them.
"There's not even a business yet," says Herjavec.
"Anyone and his dog can slap sayings onto tee shirts and sell them," remarks O'Leary.
Daymond John, the reigning king of apparel, points out that Berkopec hasn't "even gone to private manufacturing." He wants to know "How are you going to make this environmentally safe?" For the first time, Berkopec doesn't have a ready answer. He knows that bamboo is a more expensive material than cotton, but doesn't have solid numbers, or sales. He's floundering in the water.
Sink or swim?
Herjavec points out that there are thousands more-qualified business people out there, with more experience, backing, and resources, to enter this market. Berkopec's passion and enthusiasm is working against him. He has the excitement for his product, but not the knowledge, experience, or resources to bring it to fruition.
Kevin O'Leary says "it's just a bad idea." he's out.
Barbara Corcoran asks why his brand isn't on the shirts. Berkopec believes that "people will ask, 'hey, where'd you get that shirt?'" Daymond John says "that's the worst branding statement I've ever heard."
Kevin Harrington is out based on the valuation of the company versus the sales. Berkopec says "it's a long-term investment."
Daymond John responds "It's a short-term investment, because we'd lose our money." Robert Herjavec believes that the idea of a business without proprietary product is "ludicrous." he's out.
Barbara Corcoran is out based on the numbers.
Daymond John says "I'm very afraid that my shirt would say 'I invested, and I lost 100% of my money." The final Shark is out.
The Factionist Shark Tank Update
Although Berkopec's six-month-old business simply didn't have the sales, business model, or proprietary product to entice the Sharks, his enthusiasm and passion impressed Barbara Corcoran enough to offer him a job. He worked in her office for a time.
The Factionist, as a clothing line, didn't have a unique enough brand to take off. The website is no longer viable, and the Facebook and Twitter pages haven't been updated since 2010. The clothing line idea may have fizzled, but Berkopec's passion and zeal will take him far.
Company Information
In a blog post published in October, 2017, Nate admits there was never really a business. He was using a borrowed screen printer and sold a few hundred dollars worth of tee shirts. His confidence alone got him on the show. He also admits failing on national TV affected him deeply for ten years, eventually sending him to therapy. He did find his calling in programming and earned over $250,000 on a Ruby on Rails course he created. His full time business is here.