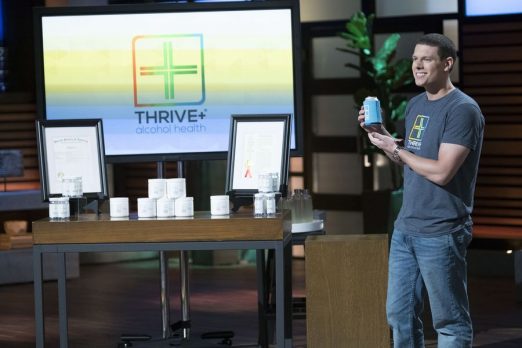 Princeton graduate turned entrepreneur Brooks Powell pitches Thrive, his line of products to "cure" hangovers, in Shark Tank episode 922. The former religion major got an epiphany when he woke up with a "mild hangover" while taking a neuroscience class back in his sophomore year. He stumbled on an article in the Journal of Neuroscience that proved dihydromyricetin cured hangovers in rats.
Dihydromyricetin is safe, has no health risks and comes from a safe family of plants. It's also the main ingredient in Thrive. With some mentorship from his neuroscience professor, he developed the product with a New York based pharmaceutical company. Thrive is a dietary supplement that comes in pill or powder form. When taken after a night of drinking, it eliminates the sluggishness and dehydration that comes with hangovers.
Powell initially wanted to market to college kids, but his stats on Amazon sales show he sells the most to adults from ages 35-54. He doesn't want his product to promote alcohol abuse, he wants it to be a supplement for social drinkers. As he says on his packaging: "Enjoy Tonight, Thrive Tomorrow." It currently sells on Amazon for $30 for a 30 pill jar. He wants a Shark's help to become "the five hour energy of hangover cures." Will a Shark want to hang with Mr. Powell?
Company Information
Video

Posts about Thrive on Shark Tank Blog
Thrive Shark Tank Recap
Brooks enters the Shark Tank seeking $400,000 for 10% of his business. He gives his presentation and hands out samples. There is a long discussion about studies in the active ingredient, dihydromyricetin, and how Powell got the formula patented. Throughout the discussion, Mark is calling Powell's claimes "BS."
Not surprisingly, Mark is the first Shark out – he NEVER invests in supplements. Robert is next, citing the confusing nature of the pitch. Bethenny thinks the marketing will be tough; she's out. Daymond thinks the marketing will be too expensive; he's out. Lori is the last Shark out stating Powell is "too early."
Thrive Shark Tank Update
The Shark Tank Blog constantly provides updates and follow-ups about entrepreneurs who have appeared on the Shark Tank TV show. In the aftermath of the original air date, Thrive changed its name to Thrive Global. In February, 2019, a year after the original air date, Brooks did a funding round of $2.1 million and completely re-branded the company to Cheers. Regarding the name change, Powell told a Houston area reporter: "We knew we needed something fitting for the alcohol industry but at the same time has the connotation of fun, responsibility, and health."
Fast forward to 2021 and Powell is seeking public investments at a $49 million valuation. As of June, 2021, Cheers is still in business with $3.5 million in annual revenue. In September, 2021, the company got a Start Engine campaign going to raise funds to get into retail. That campaign raised $1,764,919. After the campaign closed, they introduced the Cheers Restore beverage which "unlocks DHM's bioavailability by up to 19x through our patented permeabilizer technology exclusively licensed with an Ivy League University." They also launched a new hydration brand called Lightspeed, a "healthier, science-backed, modern, and sugar-free hydration solution."