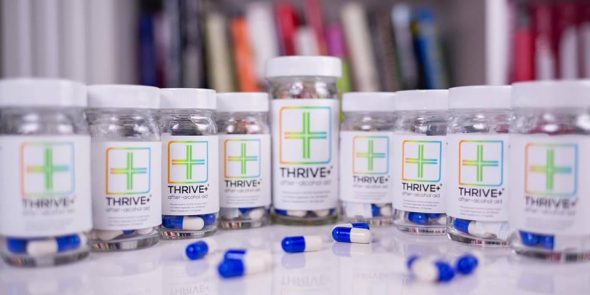 As a college student, Thrive Plus creator Brooks Powell probably knows about hangovers. Most people have had a hangover at least once in their lifetime – some have had a lot more than one. The headache, the pasty mouth, the vomiting – it's an unpleasant experience to say the least. Powell claims he went looking for a hangover cure after suffering a "mild hangover." He discovered that dihydromyricetin, which has been used in traditional Japanese, Chinese, and Korean medicines for years, actually cures hangovers.
With some help from his neuroscience professor, Powell developed Thrive Plus to cure hangovers. It's a pill that you take after drinking to prevent the horrors of the morning after. Powell, a religious studies major, always wanted to go into business for himself. Little did he know a hangover cure would be his vehicle for success.
He doesn't want to promote binge drinking, but he'd love to have his product everywhere booze is sold. He wants to be like Five Hour Energy, but for hangovers. So far, he just sells online and in some stores in the northeast. To "enjoy tonight and thrive tomorrow," all you need to do is take three Thrive Plus pills after a night of drinking and the effects of the alcohol will be minimized the next day. He likely wants a Shark's help getting into all those places that sell alcohol when he pitches his business in episode 922.
My Take on Thrive Plus
I like to drink. I like beer and I like martinis. I'll admit, I've had my fair share of hangovers. I try to drink a bottle of water before bed after drinking to stay hydrated. Alcohol is a diuretic, which means it makes you dehydrated, so water is good after drinking.
Products with dihydromyricetin that claim to cure hangovers aren't new. There are dozens of products on the market that do the same thing Thrive Plus does. Some are more expensive, some less. The thing Powell is engaging in is a branding exercise. He didn't reinvent the wheel here, he's just putting a new spin on an old remedy.
Will Sharks Help This Business Thrive?
Powell could have a few problems with his pitch. First and foremost is his product isn't proprietary. There are dozens of dihydromyricetin pills on the market that make the same claims. To succeed, he needs to differentiate and outsell all of them. That's not impossible, but it might not be something a Shark is willing to do. The one thing Powell has going for him is science. Dihydromyricetin is a scientifically proven hangover cure.
Mark Cuban HATES any kind of supplement, so he's not a likely investor. I really think the only likely investor is Bethanny Frankel. She made a lot of money with Skinny Girl Cocktails. I'm sure she's had hangovers, too. She's really the only Shark who brings value to this business. If she's not in, Powell won't thrive in the Tank.