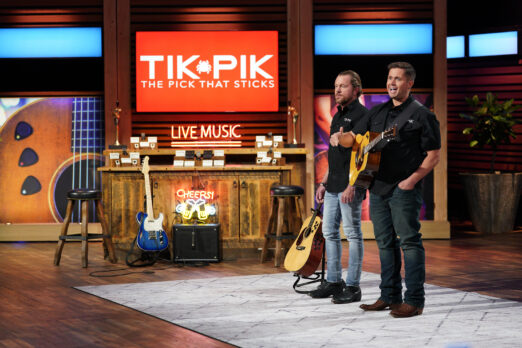 Entrepreneurs, musicians and friends Nick Nowack and Kevin McDonald pitch Tik Pik, their guitar picks that stick to the guitar,in Shark Tank episode 1507. Nick owns an outdoor gear and beach supply company. He's also a inger, songwriter, and producer, with the stage name Nicholas George. Kevin is a country artist and songwriter based in Nashville, Tennessee,
The two men play guitar and they were tired of losing picks and fumbling around to find them while performing.  They wanted a way to have their picks handy, so theyy created Tik Pik. The picks stick to the guitar without chemicals, adhesives or residue. This way, they're available in a pinch.
They come in three styles: thin,medium and heavy. An added bonus is the soft touch of the picks. They're cushioned so players don't have to grip their picks too tightly. A single pick costs $9.95. A three pack is $19.95 and a six pack is $29.95. They also offer a six pack with 2 of each style pick. They guys likely want a Shark's help with marketing.
Company Information
Video

Posts about Tik Pik on Shark Tank Blog
Tik Piks – The Magical Guitar Picks
Tik Pik Shark Tank Recap
Nick and Kevin enter the Shark Tank seeking $75,000 for 10% in their business. Kevin starts singing a song. It's a song about Tik Piks and how they work. The refrain is "Tik Pik, Tik Pik, the only pick that sticks and for $29.95 it'll get you six." The Sharks have guitars with picks and Robert asks Mr. Wonderful to play something. He jams out on the electric guitar for a few moments (he's actually good). The Sharks all cheer.
Kevin asks how people feel about the raised pod of silicone on the pick. Picks in the industry now don't have a grip and they drop them a lot. When their business partner showed them the Tik Pik for the first time, the guys loved it. What they really liked wasn't the grip but that it stuck to the guitar with no adhesive. Sweat and dirt won't ruin the stickiness of the Tik Pik.
Background Check
Kevin Mac worked with Timberlin, Missy Eliot and Kenny Riley and learned the studio side of the music business. He also played shows with them. He met a big producer who told him to move to Nashville. His wife moved back with her parents while Kevin lived on a couch for two years. His wife supported him and gave him the two years then she moved down there with him and they've been there 8 years.
Nick was born in the Cayman Islands. his dad was a career musician singing on the beach and is known as The Barefoot Man. Mark has heard of him. Nick always wrote music and his daughter wanted to get into music so Nick wrote an album of tunes. He  met Kevin through a mutual friend.
Who's In?
They have five partners in the business. When they first saw Tik Pik, they liked that it sticks to your guitar. They've been selling since October, 2022 and they have $60,000 in sales. A six pack of picks costs $2.44 landed and sells for $29.95. The Sharks like the margins. In 2023, they expect $120,000 in total sales and they'll make anywhere from breaking even to $20,000 in profit. They sell on their website, Amazon and 4 music shops. They sell 85% direct to consumers and 15% wholesale. The biggest pick manufacturer out there sells tens of millions of packages of picks per year. They tried reaching out to the big box stores and they said "we'll call you when there is a demand."
Lori loves the name. Mark interupts her and says he sees the value of a good pick. He offers $75,000 for 16% and starts counting down. The guys accept.
Tik Pik Shark Tank Update
The Shark Tank Blog constantly provides updates and follow-ups about entrepreneurs who have appeared on the Shark Tank TV show. Once an episode has aired, we monitor the progress of the businesses featured, whether they receive funding or not and report on their progress. After the initial air date, Kevin Mac announced he is launching his own Whiskey Brand called Elsie Marshall, named after his grandmother.
The Shark Tank Blog will follow-up on Tik Pik & Nick Nowack and Kevin McDonald as more details become available.