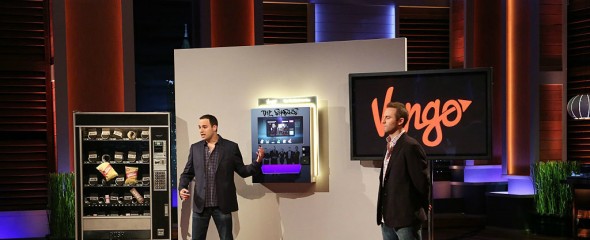 Steven Bofill and Brian Shimmerlik want a Shark to help them change the face of vending when they introduce Vengo, their small profile, high-tech, smart vending machines, in Shark Tank episode 725. Along with their design team, the pair started the business, originally called Taxi Treats, in 2012 and the company was named "NYC Next Idea 2012″ by the NYC Economic Development Corporation. The first machine went into service in January, 2013 in New York.
What makes Vengo unique is the small size and the technology. The machines only take up 2 feet of wall space and are only 6 inches deep, allowing them to get placed where traditional, bulkier vending machines can't fit. Each machine has a touch screen to choose items. The built-in technology allows the machine owner/operator to track inventory, chart trends, and other data related functions from a smart phone. They claim the machines help with brand engagement, too.
The machines, due to their size, vend small items: gum, mints, pain relievers, ear buds, etc. The business' goal is to have Vengo machines in hundreds of thousands of locations. Vending operators can increase sales by placing units in more locations and the technology makes it easier to manage, creating time efficiency "dumb" vending machines can't provide.
They likely need a Shark for cash to help with expanding production demand. Will a Shark think vending machines are a wise investment?
Vengo Shark Tank Recap
Steven and Brian enter the Tank asking for an investment of $2 million in return for 12.5% of their company, Vengo.
The pair first presents their machine, which impresses the Sharks, but they want more information on the business model. Steven explains that they are essentially a media company that makes their money off service agreements on the software that runs the hardware. They sell the machines to vending machine companies at cost – $2,500, and make their money by managing the software. The cost of the machines is $20 per machine per month, and the fee includes maintenance. They control the products that are included in the machine.
Brian and Steven are on track to make $1 million in the upcoming year. They believe they are changing the retail model, bringing the online market into the retail store. They charge the product providers $200 per SKU per month to have their items in the Vengo machines. They make most of their money on the service contracts for the machines, in addition to the advertising that appears on the screens.
Mark Cuban refers to Vengo as a "digital endcap." He has already invested in a similar company that he feels will be in competition with Vengo, so he's out.
The Vengo team has already raised $3.5 million in investments. They've brought in contracts with the largest chocolate manufacturer and the largest vending machines vendor in the US, and feel that those contacts, along with their advertising platform and the data mining Vengo makes possible through their software, justifies their high valuation.
What's the Valuation?
Daymond John doesn't agree. He calls the valuation "insane," and goes out.
Robert Herjavec doesn't like it. He feels that the business model "is just too complicated and unfocused for me." He's out.
Kevin O'Leary asks if they have debt. Steven responds that they don't. Kevin offers them a deal – A 36 month loan for $2 million, at 7%, in return for 6% equity – half what they originally offered.
Lori Greiner isn't impressed with the design. She feels that the Vengo takes up too much wall space for what they're able to include in the machine. The pair asks if she would be willing to partner with Kevin, but counter offers the same deal for 1% equity. Neither Shark is willing to accept 1% equity.
Kevin and Lori counter offer. They'd do the loan, at 7% for 36 months, but they want 4% equity in total.
Brian and Steven make one more counter. They offer 2.5%. Lori and Kevin come back with 3.5%. Brian stays firm at 2.5%. Surprisingly, Kevin and Lori make one final offer. They'll do the loan deal for 3%. Brian and Steven accept, and leave the Tank with a hard-won Shark deal.
RESULT: DEAL with Kevin and Lori for a 36 month loan of $2 million at 7% plus 3% equity.
Vengo Shark Tank Update
The Shark Tank Blog constantly provides updates and follow-ups about entrepreneurs who have appeared on the Shark Tank TV show. Once an episode has aired, we monitor the progress of the businesses featured, whether they receive funding or not and report on their progress.
The deal with the Sharks never closed. Still, Vengo became one of Shark Tank's success stories. They made a deal with Blackstone Launchpad to create digital kiosks in New York's NYU, University of Syracuse, and the University of Central Florida. Hyatt Hotels is a newly opening market for Vengo, widening their reach even further. The machines will dispense candy, personal care items, and small electronics accessories like earbuds, depending upon the market.
In 2019, they got $7 million in venture funding from a variety of sources including Gary Vaynerchuk. During the Covid-19 pandemic, the company experienced supply chain issues and began offering advertising on their machines' touch screens. In 2021, the company began serving ads on the vending machines. In October, 2021, the company partnered with TransitScreen, a leading provider of real-time transit information via large format digital screens.
As of January, 2023, the company has over 27,000 screens deployed in gyms, colleges, hotels, private clubs, residential buildings, office buildings and public transportation all over the USA. 2022 revenue came in at $12 million.
Posts About Vengo on Shark Tank Blog
Vengo Company Information
Video