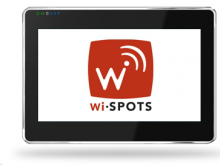 Kevin Flannery, the founder, president, and CEO of Wi Spots, came to the Shark Tank on its debut episode, appearing as the third "pitcher" on the show. A lot happened between the time the episode was shot (January 2009) and its broadcast date of August 9, 2009.
Mr. Flannery fundamentally reinvented the company during that time frame. By the time the show aired, Wi Spots had merged with the Worthington Healthcare Corporation, a healthcare-oriented software solutions provider, and became WiFiciency, Inc. The new, robust business model offered a suite of services, such as automated medical transcription, electronic health records, and voice recognition, to medical practices, hospitals, and other healthcare facilities.
Wi Spots Shark Tank Recap
Former U.S. Marine Kevin Flannery entered the Shark Tank offering the sharks a 10% equity position in Wi Spots for an investment of $1.2 million. Kevin conveyed that, since 2002, he had invested $550,000 of his own money into this patient information center, and was essentially broke for his efforts; the comebacks from the group of elite super fish were somewhat biting.
Kevin O'Leary was the first shark to pull out, offering an analogy where he compared his money to soldiers. He told Flannery that all of his soldiers were dying instead of bringing home money. Kevin Harrington felt that Wi Spots offered nothing more than access to email and content filled with commercials, and he too pulled out. Barbara Corcoran respected Flannery for his commitment before telling him to be courageous enough to quit. Daymond John told Kevin that he was losing everything and also told him to quit. Robert Herjavec told him that there is a difference between a believer and being a fool before pulling out.
As Kevin exited, O'Leary said that this was the "dark side," while Herjavec stressed that this was the result of "false encouragement." While it is safe to say that this was not the best day in Kevin Flannery's life, he remained undeterred on his mission.
Wi Spots Shark Tank Update
Despite being rejected by the Sharks, Kevin Flannery received interest aplenty from outside the tank, as several sales and distribution companies contacted Flannery and expressed an interest in marketing and selling Wi Spots' patient interaction center. It is likely that those same companies were ecstatic to learn that Kevin's new company (WiFiciency) offered even more products for medical centers, hospitals, and other healthcare facilities. The merger with the Worthington Healthcare Corporation worked out in the long term.
"I went from being wealthy to having nothing to working my way back," Mr. Flannery told the News Observer. "This business will take off, and it will be a huge success."
It turns out it wasn't that much of a success. Kevin's LinkedIn page says he ceased involvement with the company in 2012.
Posts About Wi Spots on Shark Tank Blog
WiSpots Kevin Flannery After Shark Tank
Wi Spots Company Information