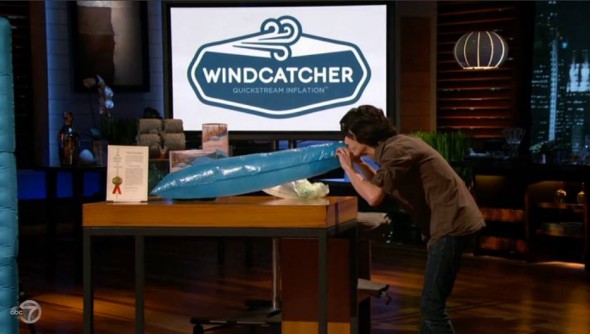 Ryan Frayne pitches his Windcatcher Air Pad, an air mattress that nearly effortlessly inflates, in Shark Tank episode 704. The Windcatcher uses "quickstream inflation" to blow up an air mattress in mere seconds – without the aid of a mechanical or battery-powered pump.
Blowing into the Windcatcher "valve" looks like blowing into a giant bag. The reason you can inflate a Windcatcher so fast is when you blow into the valve, you draw in higher pressure air surrounding the opening, making each breath 15 times as powerful – thus inflating the airpad very fast. Deflating is just as fast, too. A fully inflated airpad measures 74 x 20 x 4 inches and will set you back $100.
Frayne funded his first round of production with a successful Kickstarter. He raised $149,405 on a $50,000 goal back in 2013.
The whole package rolls up neatly for easy transport and there are attachments that can turn an airpad into a chair. Frayne envisions the technology being used in rescue buoys, inflatable tents, inflatable rescue backboards, and more.
Will a Shark help inflate the future prospects for Windcatcher?
Windcatcher Shark Tank Recap
Ryan enters seeking $200k for 8% of Windcatcher. He starts by demonstrating how to inflate a regular inflatable – it's clear how difficult it is. When he demos the Windcatcher, the Sharks are amazed. He explains the endless applications and Robert thinks it's very impressive. When he explains the technology behind the Windcatcher valve, the Sharks are dumbfounded.
Ryan thought of the idea while inflating things at the beach. He's not a scientist, but he did a lot of research and came up with the valve. Since 2013, he's sold $165K worth of product. Mr. Wonderful wants to know if Ryan is looking to build a brand or license the technology; Ryan says he'd like to do both. When asked about what it costs to produce, Ryan won't say – but he reveals his margins are 60%.
Mr. Wonderful likes Ryan – he says he's a "mad scientist guy" and says Ryan should do straight licensing. Ryan says that would be too boring. Then, Kevin offers $200K as venture debt; he'll take 6% of everything Ryan sells until he retains $800K, then he retains 3% of the company. Mark laughs and says Ryan can't afford that offer. Chris Sacca says it seems like time for someone else to come in with an offer.
After a break, Lori offers $200K for 15%. Kevin says "OUCH," but Lori says Ryan will need help to develop other products. Sacca offers to go in with Lori so he can tell the story for the other products. Lori says if there are two Sharks, the equity needs to go to 20%. Then Robert offers $200K for 10% – exactly what Ryan asked for.
Sacca and Lori go to $200K for 15% and Ryan asks if they'll include a $10 million line of credit. Robert is offended and wants to know what's wrong with his offer. Mark jumps in and offers $200K for 8%, plus the line of credit. Robert drops to $200K for 6.5%. Lori goes to $200K for 5%, but without Sacca; she'll also offer a line of credit.
Ryan says YES!
RESULT: DEAL with Lori for $200K for 5% plus a line of credit.
Windcatcher Shark Tank Update
The Shark Tank Blog constantly provides updates and follow-ups about entrepreneurs who have appeared on the Shark Tank TV show. The deal with Lori never closed due to another company offering a similar product. That resulted in litigation which is why the deal never closed. Sadly, shortly after appearing on the show, Ryan was diagnosed with pancreatic cancer. He passed away on June 5, 2018. His wife and best friend tried reigniting sales in 2019 with an IndieGoGo campaign, but it only raised $6,572. Social media has not been updated since June, 2019. As of 2021, the company website, while functioning, doesn't list products for sale. As of February, 2022, the website is dark and we can presume the company is out of business.
Posts About Windcatcher on Shark Tank Blog
Windcatcher Company Information
Video