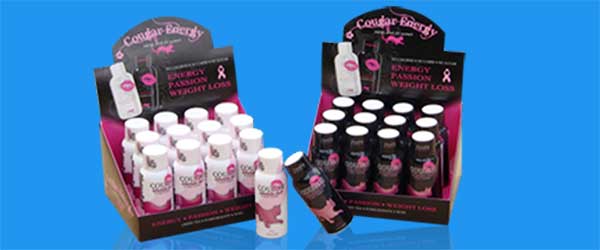 Cougar Energy brings their "lifestyle shots" into the Shark Tank for the season three finale on Friday, May 18. Founder Ryan Custer says Cougar Energy makes a gender specific energy drink that  "provides women with enhancements their minds and bodies need." They claim their  energy drink is specially formulated for women.
Cougar energy will make several claims about their product in the Shark Tank. It supposedly tastes better than "regular" energy drinks, whether it is warm or cold. They have also enhanced the color so it looks more attractive over ice or mixed into one of their cocktail recipes. The biggest claim Cougar Energy makes is the formula of their energy drink is made with women in mind, designed to fit the specific "energy needs" of women.
Will the Shark Tank Sharks think the ubiquitous displays of energy shots will be worthy of a shot of venture funding? Energy Drinks and the pocket-sized energy shots are a hot commodity. They can be found at just about every convenience store and gas station. People do buy them too, to the tune of a billion dollars worth of sales per year. Most drinks in this category taste nasty too, Cougar Energy may be onto something with their "good tasting" energy drink.
They may be missing a big chunk of the market by just targeting women. If their energy shot is better tasting than the rest, men would be interested too. Cougar Energy has already successfully branded their company with appearances in a multitude of media and a bunch of celebrity endorsements. My guess is the company has come to the Shark Tank to give their distribution an energy shot. The key to selling this kind of product is to get it on the counters of retail stores where people will buy it impulsively.
Appearing on Shark Tank will certainly help increase awareness for Cougar Energy, whether the Sharks drink Cougar's brand of Kool-Aid is another thing. We all know Kevin O'Leary HATES retail, so I am guessing he will be "out" and delivering snarky comments throughout the pitch. The real question will be is can the Sharks add value to this product (ie: distribution).
I would personally rather get a cup of coffee over a sugary, caffeine loaded, energy drink, for that reason, I am "out."
Buy Cougar Energy HERE