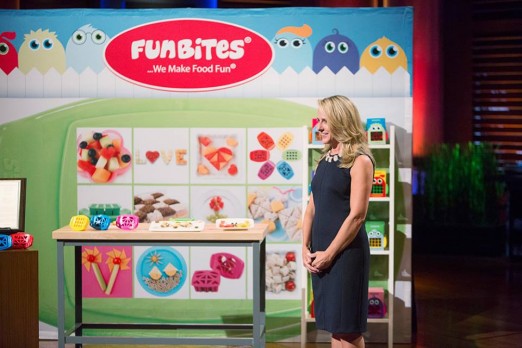 Bobbie Rhoads invented Fun Bites because she had a picky eater at home. You know the type – the kids that plays with their food and thinks everything is "yucky." To combat her daughter's bad habit of eating nothing but bite-sized junk food, Bobbie would cut things up into tiny pieces so the kid would eat. It worked for Bobbie and she realized when she made "good" food fun, her finicky eater began to chow down.
In 2011, Bobbie decided to manufacture and sell a curved blade cutter that quickly cuts food into fun, bite-sized pieces. She makes them in the USA from BPA-free plastic. They sell for thirteen bucks and they come in 6 colors and 3 cutting patterns: squares, triangles, and hearts. The idea is like a modern version of the apple corer/slicer, but for any kind of food. They're safe enough to let the kids use, so they can join in the fun of "making dinner."
Bobbie brings her invention, the FunBites food cutter, into the Shark Tank in episode 615. She's been selling the brightly colored food cutters on Amazon for quite a while now, so she may be one of those entrepreneurs that wants to go to the next level and go into big box retail.
My Take on Fun Bites
I have five kids. I totally get what Bobbie is doing with this product. If I had a nickel for every time I cut something up into tiny pieces for one of my kids, I'd be one of the Sharks! Mealtime with small kids, especially "the picky eater," can be a challenge. Making food fun is one way to bring the picky kid around and get them eating. Cutting a nice healthy melon into heart shapes is much better than caving in and giving them fruit roll-ups!
While using a knife is just as effective as Fun Bites, you don't get the geometric precision. Since it does the job quickly, you can still enjoy your own meal without it getting cold. I would have wanted one of these when my kids were younger, but my kids are older now; I worry more that they'll eat everything in the house! Seriously, I think Bobbie has a solid product and she'll do fine with or without a Shark. I'm IN!
Do Sharks Cut Up an Investment?
This product reminds me of Lollacup. Maybe it's the BPA-free plastic, the bright colors, or the fact that it's made in the USA, but I see similarities. Fun Bites is a lot further along than Lollacup, though. The product is in a ton of mom and pop retail locations in 10 different countries. It's also won more than a dozen "best product type" of awards from a variety of industry groups. Even with all that, I still think we'll see a similar story: some sales, proof of concept, and a need for a Shark's guidance.
That said, if the story line follows the Lollacup, FunBites should get a deal if the valuation and numbers are good. This could produce a bidding war among the Sharks. A business with a product with such accolades and market reach will be easy for a Shark to turbo charge into the stratosphere. It's not "too soon" or going to take "too much time," Fun Bites and Bobbie Rhoads are in the Shark Tank sweet spot and should leave with a deal.