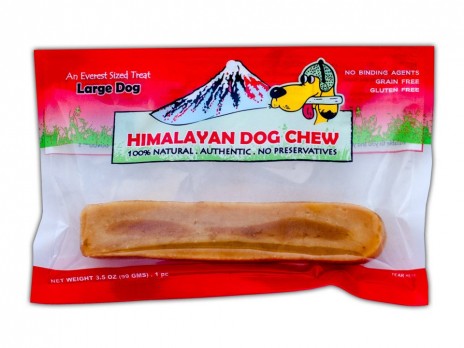 Himalayan Dog Chews takes two things dogs love and puts them together: cheese and something you can chew. Nishes, Sujan, and Suman Shrestha pitch Himalayan Dog Chews to the Sharks in Shark Tank episode 615. The product was "invented" in 2003 when Nishes' dog started chewing on some Himalayan cheese. After four years of R&D, Nishes, Sujan, and Suman started selling their Himalayan Dog Chews at local farmer's markets near Seattle.
A few months later, they had a commercial kitchen and were wholesaling to pet stores. Now, they have a Himalayan farmer's cooperative where several thousand farmers get them the raw materials to make their product: yak milk. Himalayan Dog Chew is a pretty big business for the Shark Tank; they employ roughly 40 people, have several million in yearly sales, and wholesale their product to over 5000 pet retailers.
Himalayan Dog Chews has a bold vision: "to be recognized and respected for producing the healthiest and highest quality pet food and products in the world." They truly are a company that cares about the pets they cater to, and the people that care for them. To date, they've donated a portion of their profits to 57 animal charitable organizations and three "human" ones.
The products include a variety of different cheese chews, appropriately sized according to your dog's weight; a variety of yak milk based treats – including a "seasoning" made from yak and cow milk, salt, and lime juice that you sprinkle on your pet's food; and a Ruff Roots chew toys harvested from the roots of shrubs or trees in the Mediterranean Heathlands. Everything this company sells is high quality, natural, and sustainable.
One thing they don't have going for them is a presence in the "big box" pet stores. This is likely why they want a Shark in their corner – to help with financing the volume needed and with getting in the door.
My Take on Himalayan Dog Chews
My dog LOVES cheese. Whenever I make a sandwich, she gets a slice (or two). Most dogs love cheese and chewing stuff, so Himalayan Dog Chews would be a most welcome treat. The growth of this company is a testimony to how much dogs like the product. Dogs have no filters, if they don't like something, they won't eat it; the business would have failed if dogs didn't like it.
I would buy this for my dog. I'm always getting her treats when I pick up her pet food or when I go to the local pet store for food for my daughter's turtle. The thing is, they aren't in Pet World (hint hint a quality family owned store) in my hometown; that's where I usually shop for canine and amphibian alike. I hope they do a deal, or at least contact the folks at Pet World so I can get these for my dog. I am IN!
Do Sharks Chew on a Deal?
Pet products are an historically tough sell in the Shark Tank. That said, there hasn't been a pet product company on the show with the sales and proof of concept Himalayan Dog Chews has. Sales are everything to the Sharks and the millions this company has done in sales ought to impress.
It seems Himalayan Dog Chew has their infrastructure in place. They are likely looking for some sort of purchase order financing and/or an intro to the big box pet stores. Any of the Sharks could provide this and I think the Sresthas could run with the ball from there. That's a plus because a lot of the time the Sharks don't want to do "too much work" for a business they don't fully understand.
I think, if the valuation is right, this business will field multiple offers. What I hope is Robert invests. He's always playing with the dogs that come on the set and it would be nice to see him go into a business that caters to dogs.