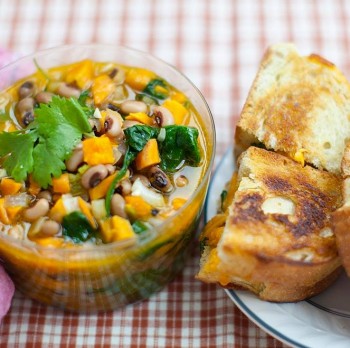 Nick Taranto and Josh Hix pitch Plated, the gourmet food delivery service, and hope the Sharks take a bite and invest in episode 528. Have you ever wanted to whip up a dazzling gourmet meal for dinner, but didn't have the time or energy to go grab the ingredients? Plated wants to end that conundrum with their gourmet food delivery service that ships chef designed meals straight to your door.
In each box they send, you have all the fixings, from fresh meat and veggies right down to measured amounts of spices and seasonings.  You just pick what meals you want on the website each week and in a day or two a gourmet meal is on your doorstep. Plated offers a subscription based gourmet food delivery service (which provides a savings per meal) or you can order whenever you like.
The business is run by a bunch of Harvard MBA's who got some serious venture capital funding ($5 million) to get their gourmet food delivery concept off the ground. All the food shipped is purchased locally and shipped fresh. Plated covers about 80% of the continental USA and is looking to be a ubiquitous presence in home kitchens everywhere.
My Take on Gourmet Food Delivery
I do all the cooking and shopping in our family. I love to cook and I like finding new recipes for my family's diverse taste buds. Tonight we are having herbed chicken with grilled portabella mushroom caps and bruschetta. My TOTAL meal cost to feed four is under 10 bucks.
At $10-$14 per meal, Plated is a tad more expensive than one of our standard meals, but the quality, convenience and novelty make it a pretty good value. I could see getting or giving this as a gift or even having it for dinner when the kids aren't around. I love my kids, but I'm not dropping $14 so they can eat Citrus Soy Chicken Thighs with Soba Noodles!
I think this is a good concept for 3-4 meals a month, but I couldn't see it as a regular option due to the price. That said, there are probably a lot of people who'd use it for the convenience alone. There are other gourmet food delivery services popping up to serve the demand, Plated wants to be better than the others.
Do the Sharks bite on Plated?
Plated has all the makings of a successful business: smart owners, solid backing, a good concept, and sales. They got their start in Manhattan's TechStars incubator, and have grown steadily since their 2012 debut. Gourmet food delivery is a growing trend as more people are too busy to shop for quality, fresh ingredients with flair. Their "social recipe" platform is a nice touch too since people can compare experiences with the exact same recipes and ingredients.
While those are all impressive, what will the Sharks think? The big problem I see is the valuation. With $5 million in VC funding to date, Plated is likely valued at more than the Sharks will want in for. Being an MBA is no guarantee on Shark Tank either – many MBA's have been chum in the Tank before. Taranto and Hix could be next! I suspect they'll ask for big money for 5 or 10% of the business. I think everyone will like the food and the concept, but his one will come down to the valuation and the Sharks will likely be saying "I'M OUT."