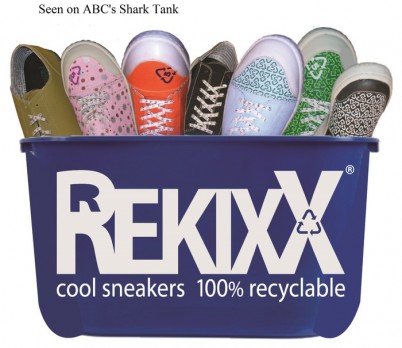 Gary Gagnon was one of the first Shark Tank entrepreneurs to use Kickstarter in conjunction with his appearance in season three, now he has another Rekixx Kickstarter campaign running. In June, 2012 – just a couple of months after appearing on Shark Tank, Gagnon successfully raised over $44K on Kickstarter. He used the funds as a "pre-order mechanism" and for manufacturing 1200 pairs of sneakers for online sales and stock in a handful of shoe stores.
Rekixx Kickstarter Redux
Rekixx (formerly Remyxx) is introducing six new styles for Spring 2014: Green Valor high tops, Sweet Mary-Jane mary-janes, Convertible Black slip-ons, Message in Green, Retro Black and Classic Rock sneakers. Sizes range from youth 4 (women's 6) to a men's 12 (women's 14). Once again, the Rekixx Kickstarter campaign lets customers pre-order sneakers while helping Gagnon fund another round of production.
Gagnon's still working a "day job" while he builds his business. I asked a friend of mine who's an executive in the "shoe biz" about Rekixx and she said "why the hell would anyone want to get into this business?" Her implication was, it's a tough go. Gagnon agrees:"Starting any business, even a one-of-a-kind sneaker company, is pain-staking work and a long hard road, never do I take any blessing or barrier lightly."
Gary outlined what's next for Rekixx:
"I have been a strong advocate for recycling since high school. ReKixx allows me to spread awareness about the importance of landfill diversion, sustainability, green living and corporate responsibility. The goal is to assemble a complete program that will allow me to bring in significant inventory that will enable me to: 1) sell more sneakers online directly through the ReKixx website, 2) utilize affiliate websites like Fab.com and EthicalOcean.com for additional sales, 3) reach retailers and dealers for placements where back-up stock is necessary, and 4) capitalize on celebrity interest and brand building opportunities."

"Understandably where my immediate and largest barrier is available cash for new production and inventory, I am open to investment opportunities (please reach me if you are interested or know anybody?) and I am planning a new Kickstarter campaign (to be live October/November). Thus far, where I have intentionally taken a "baby steps" approach, I am ready now for a bigger step that is dependent on the type of funding/financing I can secure in these coming months and into 2014. Whether my steps go by way of an investor or Kickstarter you know I am attacking these tasks with drive and passion."
Rekixx Moving Forward
Rekixx sold out of its first batch of manufactured shoes and needs to get the funding to continue moving forward. Gagnon worked with Daymond John and his team through May of 2012, but the deal never finalized. Gary had to go sell sneakers. Now, he's also looking for other investors beyond Kickstarter, but he says "Daymond is one I can count on to step in with his expertise, reach, and financial backing." Daymond even said to Gary, "If I am not the investor for you, then I will help you close."
Gary and Remixx need to get things rolling for the 2014 Remixx new product launch. You can help fund the Rekixx Kickstarter campaign and get a nice, sustainable, new pair of Rekixx Sneakers in the bargain.