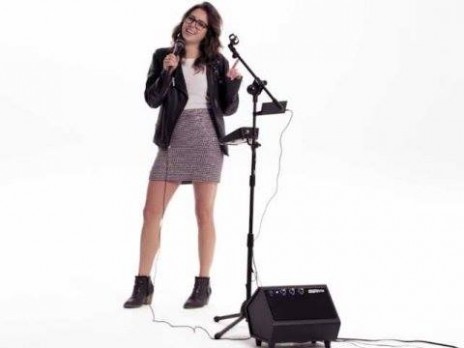 It's official: Singtrix, the ULTIMATE Karaoke machine, is the coolest product to ever appear on Shark Tank! Developed by John Devecka and Eric Berkowitz, who helped create Guitar Hero, the Singtrix is a Karaoke machine that turns anyone into a bona fide rock star. They'll pitch Singtrix to the Sharks in episode 609.
Singtrix is a Karaoke machine on steroids; it's intelligent, too. Simply hook up any MP3 player, iPad, or iPhone to the Singtrix and it automatically creates vocal harmony for the chosen song. You can play tunes from your music library, YouTube, or the Singtrix app's library of over 13,000 songs. The Karaoke machine even matches your voice to the singer in any particular song.
The heart of the Karaoke machine is the Singtrix studio, a small box mounted on the mic stand. Play a song, turn the effects dial, and start singing. There are over 300 vocal effects covering every genre & generation of music. Simply dial in your skill level and create instant karaoke tracks from any song, then add live harmonies and other dramatic effects. You really have to hear it to believe it!
The whole set up costs $350 and includes the mic, mic stand, Singtrix Studio, device mount, and speaker. Just connect your device, find some music, and rock out!
My Take on the Singtrix Karaoke Machine
In case you couldn't guess, I think this thing is AWESOME. It is going to be the "family present" under our tree this year! We love karaoke in our house. My parents have an old karaoke machine that uses DVD's, but Singtrix takes the karaoke experience to a whole new universe. We've spent hours playing Rock Band and/or singing karaoke for years. The Singtrix is going to be very popular in our house!
I think it will be popular in a lot of homes. People love karaoke and even the most horrible singer in the world will sound like they have a great voice with Singtrix. $350 is a bit steep for a "toy," but something like this has lasting value; families and friends can enjoy it for years to come. Whether these guys get a deal or not, they have a big winner and they will sell a crap ton of this product. I am IN (just ordered on Amazon)!
Will Sharks Sing Along and Invest?
Ultimately, Singtrix is a game platform, but unlike first person shooters, it's a game all generations can enjoy. Guitar Hero did over $830 million in sales, and that's not including additional revenue from song downloads. That's BIG BUCKS, and the Sharks should recognize the earning clout of a successful game platform. This could very quickly be a $500 million PLUS product, once people get introduced to it. Singtrix could sell a million units the week after they air!
This is going to be one of those products that starts a Shark fight. I can see everyone wanting a piece of this business. The ABC press photos show Mark Cuban trying it out, he's one Shark that could make a big bid and shut the others out. All the Sharks should be salivating over this product. I think there will be multiple offers, Sharks teaming up with each other, and a lot of fighting over Singtrix. The only thing that prevents them from getting a deal is if the Sharks want too much equity. Devecka and Berkowitz know the game and won't give away the store to do a deal.