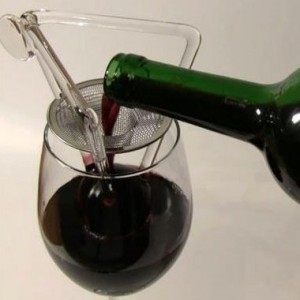 Wine Aerator entrepreneur and former waiter Gary DeJohn didn't get funded in episode 309 back in season three, but the plucky young, entrepreneur has been pouring it on when it comes to sales! Wine lovers everywhere are snapping up the Vinamor Wine Aerator in restaurants, liquor stores, and online too. He's got a new manufacturing arrangement and he literally cannot keep up with demand. Making a $10 bottle of wine taste like a $50 bottle of wine seems to be a business that is in high demand. I caught up with Gary last week to get an update on his progress as a wine aerator tycoon and to see how life after Shark Tank is treating him.
Gary DeJohn Went From Waiter to Wine Aerator Creator
Gary's episode aired on March 16, 2012. On March 15, he did his last shift at The Melting Pot. "I went from waiter to entrepreneur over night," he quipped, " I was assembling Vinamors, packing them, and shipping them all by myself. At first, each Vinamor was made of hand blown glass and I had to hand cut each screen. Now, I am having them manufactured for me, which has increased margins and saves a lot of time. I get 6,000 Vinamors shipped to me at a time, they're all over my house!"
Gary shares his wine aerator packed home with his 8 year-old daughter. Gary confessed that he liked being a waiter. "I  miss the interaction with customers  sometimes. I made good money too, but the hours don't work with a young child. I wouldn't change a thing." If Gary wasn't waiting tables or selling his wine aerator, he might have joined his father in his house moving business. His dad is one of three contractors in Colorado that moves houses – usually historic buildings. In fact, Gary helped him out with a move of an historic building just a few days prior to our conversation.
Open Casting Call for Shark Tank
Gary took an interesting path to the Shark Tank. He tried to line up others to help him, but the people he invited to share in Vinamor's success didn't share Gary's entrepreneurial vision. "I have a friend who is very knowledgeable about wine, he's almost a Master Sommelier. I offered him 30% of the Vinamor. He was interested, but he backed away when the time came to put in the work."
Eventually, Gary found himself at an open casting call for Shark Tank in LA. "I flew to LA and stayed on a friend's couch. I met Shelly Ehler in line. She was so nervous, I gave her a glass of wine to calm her down!" Shelly and Gary made the cut to appear on air, but Gary wasn't so optimistic about his chances immediately following his audition. "I waited about six weeks after the casing call and heard nothing. I was just about to give up on the Shark Tank when they called. I guess I should have given up a week or two earlier."
"It's hard to sell a wine aerator nobody knows. The biggest obstacle is getting people to taste the difference. Once they do, the Vinamor practically sells itself. Kevin O'Leary liked it a lot, but he wanted to license it. I came to find out he was opening his own vineyard around the time I taped; maybe he just didn't want to take it on."
The Shark Tank Aerates Vinamor's Sales
"I was lucky in a way. I left the Shark Tank 'intact.' I didn't get ripped and I wasn't made to look foolish. I think Shark Tank definitely accelerated the sales of the Vinamor. It was like an infomercial for me, and I retained both my reputation and my equity. After I aired, I secured a $50,000 loan from a friend, so the Vinamor is all mine."
Gary has had success selling in restaurants. The Melting Pot in Fort Collins, Colorado is selling the wine aerator as a test. If all goes well, Melting Pots nationwide will be selling the Vinamor soon. "I've changed directions for distribution. My original idea was to get them into restaurants, but the Vinamor is in over 100 liquor stores and they're selling like crazy. I also have vineyards carrying it. We've been getting great reviews on websites and Wine Enthusiast magazine just picked us up too.  Even though my website is terrible, it hasn't stopped people from ordering. The best thing is we are seeing a lot of re-orders, that really validates things for me. People like the Vinamor enough to order another, presumably for a gift. It's a great gift idea, I'm hoping for big holiday sales."
Gary DeJohn has already been in the giving spirit prior to the holiday season. Earlier this fall, he raised over $1,000 for St. Jude's Children's Research Hospital. "The Melting Pot is involved with St. Jude's through their Thanks and Giving program. Last year, I raised over $8,000 as a waiter so St. Jude's invited me down for a tour. I decided to continue my involvement with Vinamor." Gary donated 50% of his wine aerator sales from October 1 through November 15.
Wine Aerator Entrepreneurial Advice
I talk to a lot of entrepreneurs for this site and they all have that special something that drives them. Gary DeJohn definitely has "it."
"The most important thing I can offer to others is, 'You Can Do it!' I'm living proof; I went from waiter to 'overnight success.' You just need the drive to succeed, that's what it takes. I went from working a 5-8 hour shift to working 16-20 hours a day, but being an entrepreneur isn't about taking the easy road. You might have to knock on 1,000 doors, but it could be that 1,001st door that opens for you."