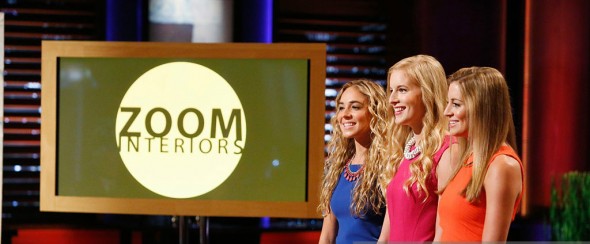 Madeline Fraser, Elizabeth Grover, and Beatrice Fischel-Bock think Zoom Interiors is the next step in interior design. The three young women created their virtual interior design service to provide an alternative to expensive, $400-$600 an hour designers. Their online platform creates a profile of what a customer wants for a particular room based on a series of questions, then gives suggestions for products to furnish the room.
Zoom is free to use, initially. Once you input all your questions and design preferences, for a $149 fee, they'll provide users with a visual of each room they wish to design. They target recent college grads and young professionals who want a well designed living space, but don't have a lot of cash to spend on expert advice. They also claim they can save customers money by finding bargains on furniture and accessories. They add a 15% service fee to items bought through the Zoom website for additional revenue.
So far, the three women have designed over 40 spaces, mostly for family and friends and people in greater Washington, DC. Their goal is to take the concept nationally and develop their own branded line of furnishings and home accessories. They have a self-imposed 2 year limit on building the business into something sustainable. They likely want a Shark's help with growth and branding.
My Take on Zoom
When I moved into my first apartment, the biggest design concern I had was where to put a bar I made in my dad's wood shop. I moved in with a second-hand couch, some art I bought at a yard sale, some TV trays, a bed, and a new TV. I wasn't too concerned with design elements, at least until I got married – then I had to pretend I was concerned!
I wouldn't consider using a designer, virtual or otherwise, in those days. Now, I have a live-in designer: my wife. If she wanted to spend money on Zoom, I wouldn't stop her. When she shows me the suggestions, I probably would go with my standard "that looks lovely, dear." I'd be concerned with one thing: how much is this going to cost me?
That's the one way Zoom caught my eye. I fiddled with their platform and it allows you to set a budget. My experience decorating is when you don't have a budget ahead of time, things get expensive quickly. With Zoom, they do their best to keep the money end of things in check – that makes my job A LOT easier!
I wouldn't personally use Zoom, but I could see my wife doing it. She takes over when it comes to decorating – she has to, or else we'd still have the picture of the dogs playing poker in our living room!
Will Sharks Zoom in and Invest?
The Zoom gals have early success, but 40 designs isn't going to wow a Shark. They are going to need laser focus when describing and articulating growth plans for their business. They have a very good, user-friendly website which is the core of their business, but these days anyone can have that.
In order to net a Shark, they need to show how they can expand the business to the point it makes sense for an investor. If they come in with a modest valuation, show they're hungry, capable, and ambitious, and have a clear business plan, they could net a Shark. If they come in, like a lot of fresh-faced college kids, with an over-valued, starry-eyed dream of a business based on limited success, they'll get skewered.
Which Zoom will we see in the Tank?