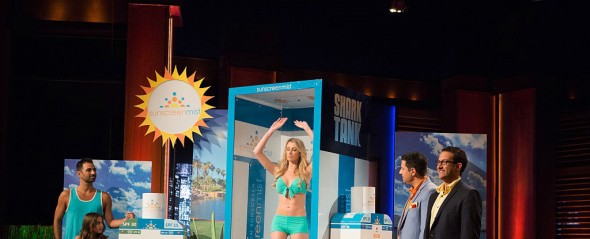 If you've ever gone to the beach and forgotten sun screen, Tony Fayne and Josh Kaplan have the solution. They invented Sunscreen Mist, a sunscreen application station for beaches, amusement parks, and just about any other outdoor venue you can imagine. Only about one-third of people properly apply sunscreen when participating in outdoor activities; this leads to painful sunburn or – even worse – skin cancer.
Fayne and Kaplan don't operate the sun screen stations, they sell them to resorts, amusement parks, construction companies, golf courses, or anyone who has an outdoor venue where they want to provide added value and protection from the sun. Station owners can charge for sunscreen or offer it as an amenity. There are three varieties: a single application station or double application station where people apply sun screen with a hand-held nozzle or the full misting station where you stand inside a booth and get blasted with a mist of sun screen. They also sell their own, branded sunscreen in 15 and 30 SPF, cooling aloe gel, a "tan enhancing spray," and sunscreen with insect repellent.
My Take on Sun Screen Mist
I LIVE at the beach in the summertime – I have for the past 20 years. Every morning, the ritual of applying sun screen to five kids takes up about 20 minutes. We are part of that one-third of people who actually applies sun screen; it only takes one bad sunburn to make the process a Pavlovian chore.
There have been times, however, when we've gone somewhere that we forgot to bring sun screen along. We either have to borrow some from a good Samaritan or buy some; if you are in a "captive market," like a water park, it can be expensive. In those instances, I'd probably use a Sun Screen Mist station if it were available.
I also think owning a Sun Screen Mist station would be profitable. At two bucks or more an application, profits could add up quickly. Owners of out-door venues could get a nice, additional profit center. The novelty of the stand-in misting station would be a big attraction, too. I am solidly IN on this business.
Do Sharks Apply Sun Screen?
This is another business that doesn't fit the direct to consumer mold. While consumers are the end-user of this product, an intermediary entity has to purchase the station. It's kind of like a vending machine for sunscreen. The continued success of the business relies on the continued forgetfulness of outdoor loving people, something that's probably fairly consistent!
The Sharks will want to know the cost of making each machine and the profit margin, but the big picture is continued sales of the branded sunscreen products used in each station. Long term, that's where the big money is. If their sun screen formula has some sort of proprietary element that allows for proper application in the machines, they are looking at big, on-going profits. If any old sun screen can work in the machines, there's less incentive to buy direct from the company.
The SunScreen Mist products already have some distribution, so current sales will be a big factor for the Sharks. If those numbers are solid and growing, there could be multiple bids. A Shark who gets on board with SunScreen Mist will need to understand selling into resorts and venues. That might not be up Lori's alley, but the other Sharks could bite. Barbara, with her many real estate connections and her relationship with Reology Corporation (the company that bought Corcoran Realty that owns thousands of hotels), could bring a lot of value to the table.
Whatever the case, the key to SunScreen Mist getting a deal will be demonstrated need, sales and growth. If they have those three things and don't come in with an off-the-wall valuation, they will leave with a deal. After all, Sharks aren't the only thing you need to worry about at the beach!