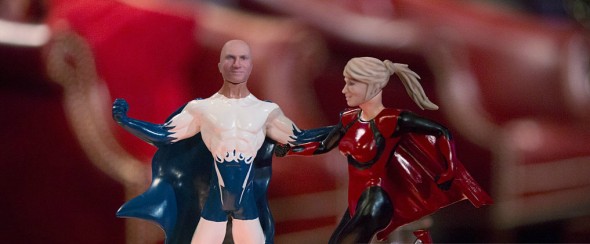 Action figures are a ubiquitous toy in the USA. Just about every movie aimed at kids comes complete with a line of action figures to further the brand and increase revenue for the franchise. I know someone who has a Star Wars action figure collection appraised at over $1 million!
Keri Andrews and Alesia Glidewell know how much people love action figures and they've perfected a way to put anybody's likeness on the body of an action figure. Picture your likeness on a caped super hero; it would be worthy of display in your home or office!
The pair got their business off the ground with a Kickstarter campaign that raised over $45K last year. They had difficulties with fulfillment initially, but they appeared to have worked out the kinks. They charge sixty bucks per figure and they take four weeks to make and ship each product. Simply send them a face photo and they use 3D printers to create a likeness. They take the "printed" head and stick it onto one of twelve stock bodies. As you can see from the photo of Mr. Wonderful and Lori above, the likenesses are very realistic!
Since this is a relatively new business, the women are likely looking to ramp up production capabilities with new printers and want a Shark to help them capitalize that expense.
My Take on Personalized Action Figures
I think these things are cool. Who wouldn't want their likeness on a super hero's body? Based on the success of the Kickstarter campaign, Andrews and Glidewell are on to something. They market to businesses, too; I think personalized action figures would be an awesome gift for employees and customers.
I'd get one for a gift for friends and family. Like many people, I have people on my gift lists that "have it all" and I'm constantly struggling with coming up with something unique. I can see getting my dad a You Kick Ass figure for Father's Day. I am definitely IN!
Do Sharks Kick Ass and Invest?
There have been a couple other personalized products in the Tank – The Bobble Place from season one makes personalized bobble head figures and Budsies from season six does personalized plush toys. Neither business got a deal; both companies had Sharks bidding, but wanted too much money for too little equity.
What You Kick Ass can do is differentiate themselves by coming in with a reasonable (at least for the Sharks) valuation. If they do that, they should garner some interest. The business is a margin deal; if the margins are good, Sharks will bite. 3D printing facial likenesses isn't proprietary, so being first to market selling personalized action figures has some merit.
The other thing a Shark could do is accelerate licensing. Imagine if you could put your head on a "real" super hero like Captain America or Superman – THAT could EXPLODE sales! If a Shark believes they can do licensing with Marvel (owned by Disney which is part of the ABC family), the profit potential could be enormous.
I think the Sharks enjoy the You Kick Ass products; all the press photos show smiling sharks holding their respective action figures. If a Shark smells opportunity, You Kick Ass will net a Shark.