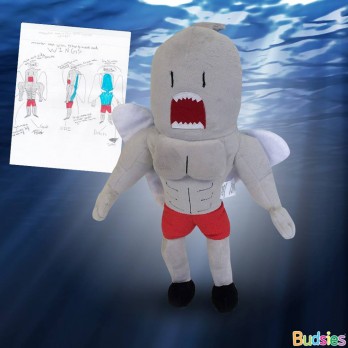 Alex Furmansky hopes for a plush deal when he pitches Budsies in Shark Tank episode 629. Furmansky got the idea for Budsies after observing his little sister with her stuffed animals. Like any other kid, Alex's sister liked drawing. Alex thought it was a waste putting her drawing in an old box, so he figured out a way to bring them to "life," and Budsies was born.
His first Budsie for his sister was primitive. Now, he has designers using hypo-allergenic fabrics. To get a Budsie you upload an image of a child's drawing, then the designers pick colors and draw a pattern based on the image, next the toy is sewn up, stuffed and shipped. Kids love seeing a 3-D version of their artwork.
At $69 per toy, Budsies are on the pricey side, but the customization makes them worth it. Currently, you can order Budsies from the company website. Maybe Mr. Furmansky wants a Shark's help expanding into retail. Will Budsies get a deal or will the Sharks tell Alex to get stuffed?
Budsies Shark Tank Recap
Alex enters seeking $100,000 for 5% of his "heartwarming" company and begins his pitch. He unveils a display full of custom Budsies and hands out some samples. He explains how the design and "build" process works. The product costs $35 per unit and they sell for $69.
The Sharks don't like that it takes 4 weeks to deliver a product. Unfortunately, Budsies has only sold $94K in 7 months. Mark thinks the business is too "duplicatable," he's out. Lori thinks it's not scale-able, she's out. Mr. Wonderful doesn't understand how he'll make money, but he offers $100,000 for 50%.
At this point, Alex reveals Budsies does pet replica plush toys and human replicas too. He hands out versions of each Shark. Daymond then questions the valuation and Alex tells the Sharks "this is how angel investing works," the Sharks scoff. Robert doesn't think Alex knows how he'll get through the next 12 months, he's out.
Daymond offers $100,000 for 40%. Alex says he needs more money for a higher percentage then Daymond goes out. Alex declines Mr. Wonderful's offer and Kevin says "your deadsie to me."
RESULT: NO DEAL
Budsies Shark Tank Update
The Shark Tank Blog constantly provides updates and follow-ups about entrepreneurs who have appeared on the Shark Tank TV show.  In 2018, they launched an even cooler site: Petsies. Send them a photo of your pet and they'll make a stuffed animal out of it! In March, 2021, Furmansky sold the business to a gentleman named Scott Meier for an undisclosed amount. As of April, 2023, this company is still in business with annual revenue of $2 million.
Posts About Budsies on Shark Tank Blog
Company Information
Video