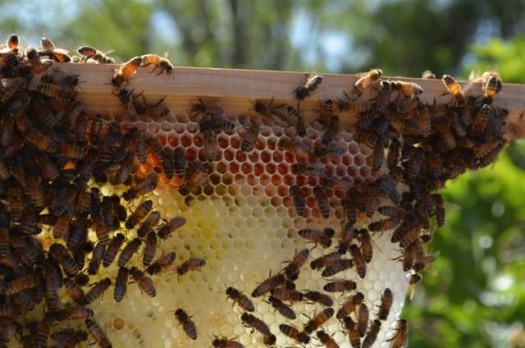 Matt and Jill Reed didn't initially set out to sell bee keeping supplies, they just wanted to educate people about bees and their place in the ecosystem on their website. Their noble idea quickly turned into a business when people saw the beehives they were making for themselves on the site; the Reeds have over 30 hives of their own. Demand met supply, and the Reeds began selling and mass-producing foundationless beehives for sale. Today they are the largest online retailer of the kinds of hives they sell.
Matt faces the Sharks without Jill in episode 629, seeking an investment in their bee keeping supplies business. Basically, Bee Thinking sells everything anyone needs to start keeping bees. They sell the hives, bee keeping suits, books, tools, even the bees (on an as available basis). The key to Bee Thinking's success is the Reeds' commitment to educating people about bees and bee keeping.  When you purchase bee keeping supplies, Bee Thinking will make sure you know all about bee life cycles and biology, beekeeping history, hive designs, colony management, and innumerable other honeybee related topics.
The big ticket items at Bee Thinking are the three styles of pre-fabricated hives they sell. Each hive ranges from $199 to over $400. They also sell related bee keeping suits, tools and accessories, honey, and other bee related products. They are strictly direct, selling only from their website.
Bees have an important role in agriculture and without them, humans would see vastly reduced food stores. By promoting bee keeping as a hobby, Bee Thinking hopes to keep bees alive and well now and into the future. Matt likely wants a Shark to invest to help scale up production of their bee hive production facility.
My Take on Bee Keeping
I am allergic to bee stings, so I am not a good candidate for bee keeping supplies. My wife's cousin out in Vancouver likes on a farm; she raises chickens and bees. She's always sending jars of honey as gifts at the holidays. I don't know much about her set-up, but she's the only person I know who raises bees.
One of the best by-products of bee keeping is fresh honey; if you've ever had "the real deal," you know how good it is. Folks with a little land and a penchant for do-it-yourself hobbies would like bee keeping and the Reeds hope the trend toward more natural and sustainable food sourcing will help grow their business.
I won't be lining up to purchase any bee hives (unless they come with epi-pens), but I think Bee Thinking has a leading position in a profitable niche.
Do the Sharks see a honey pot?
Bee Thinking has a tricky business for the Sharks. They generally like to see businesses that have mass appeal, but other niche businesses found success in the Tank in the past. Margins and sales will be the thing the Sharks focus on, and if they are on target with their numbers, Bee Thinking could see interest.
This product isn't in Lori's wheelhouse, so she won't bid, but the other Sharks might. Both Robert and Mark like to invest in online businesses if the sales model is clear and the company knows its customer acquisition costs. Daymond has an outdoorsy side, so he can invest. Mr. Wonderful makes offers when he smells opportunity, regardless of the business.
The real question is: can one of these Sharks take the sting out of Bee Thinking's growing pains?