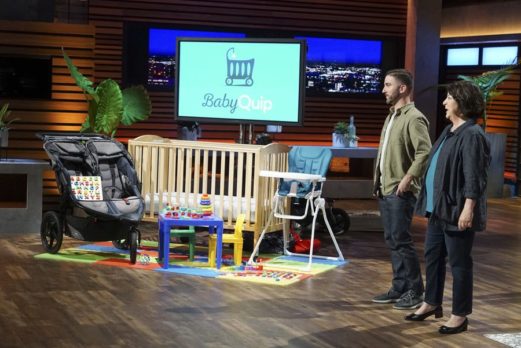 Mother/son entrepreneurs Fran and Joe Maier seek an investor for BabyQuip, their baby gear rental business, in Shark Tank episode 1106. The Maiers started the business in 2016 and its grown quickly, largely due to their business model of utilizing partners called "Quality Providers" who do the local, on the ground service delivery.
Formerly called Babyierge, BabyQuip changed the name due to the growth of voice activated search which bumbled searches for the previous name. The way it works is people traveling with babies often need things like car seats, cribs and strollers (among other things) at there final destination. Traveling with all that gear is cumbersome and expensive with new airline baggage policies. With BabyQuip, parents can rent all the baby gear for a modest cost.
It's the "Quality Providers" who deliver the goods at the final destination. People with a lot of extra baby gear can rent their stuff out to traveling parents. They'll also provide consumables like diapers or formula for an added fee. The Quality provider pays a one-time set up fee of $100 plus an 18.5% fee on each rental. BabyQuip provides the nationwide platform and insurance. Quality Providers pay for the insurance on a sliding scale based on the volume of rentals they do each month. The average Quality Provider earns around $600 per month. Most providers are moms seeking a "side hustle."
True Tech Leadership
The company boasts over 500 providers nationwide – up from about 225 less than two years ago. The Maiers are no strangers to tech. Fran is on a dozen tech company boards and was a co-founder of Match.com. Son Joe was a technology consultant at Accenture where he designed web applications. Together, they – along with their tech savvy staff, hope to make BabyQuip the AirBNB of baby gear rental. Will a Shark help them get equipped for further success?
Company Information
Video

Posts about BabyQuip on Shark Tank Blog
Baby Quip – Baby Gear Rental Service
BabyQuip Shark Tank Recap
Joe and Fran enter seeking $500,000 for 5% of their business. The Sharks understand what they are trying to do, but they are worried they'll need too much cash or a big investor to grow the brand. The Sharks also like the Quality Provider concept since it gives opportunities to the largely single mom provider force. The only Shark to make an offer is Mr. Wonderful. He offers $500,000 for 20%, but Fran and Joe won't give up that much equity and leave with no deal.
BabyQuip Shark Tank Update
The Shark Tank Blog constantly provides updates and follow-ups about entrepreneurs who have appeared on the Shark Tank TV show. Since the first airing in early March, 2020, the nation has been under lockdown due to the Covid-19 pandemic. This hurt their business with a 60% drop in sales, but quality providers and the company have pivoted to offer cleaning and home shopping services. In March, 2020, the company acquired Tot Squad, a business that sanitizes car seats. Tot Squad has a major contract with Uber to provide sanitized car seats. As of June, 2021, the company is in over 600 cities and generating $9 million in annual revenue.
In December, 2021, the company partnered with Hyatt, Vrbo, AvantStay, Blueground, Xplorie, Guesty, DACK, and more to offer a host referral program. In April, 2022, the company closed $3.4 million in new funding. They plan to use the funds to expand internationally, build out their proprietary technology platform, and add new services. With no real competition in the marketplace, annual revenue grew to $23 million and BabyQuip looks to be on the way to being a $100 million company in the next few years.