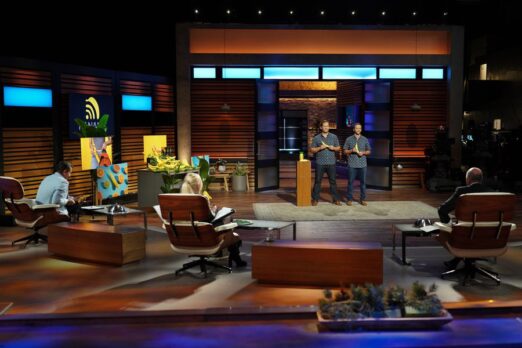 Max Brown and Brian Brunsing introduce the Sharks to Banana Phone, their "phone with APPEAL," in Shark Tank episode 1402. A third business partner, Charlie Katrycz, does not appear on the show. If you remember the kids song, BananaPhone, from the nineties by Rafi, you'll understand the inspiration for this product. Believe it or not, the product is a phone that looks like a banana. It can connect to your smart phone with Bluetooth and you can actually talk to people on a banana!
They got things started with a successful IndieGoGo campaign that raised $44,850 back in May, 2017. The guys managed to deliver finished product by November of the same year. Since then, they've been selling online on Amazon and their website. They have a heart, too. The company donates 1% of their yearly sales to Gearing Up 4 Gorillas, an non profit that focusses on the conservation of mountain gorilla in the Virunga National Park in the Congo.
The phones cost $39.99 and work with both Apple and Android devices. It's also compatible with Siri, Alexa and Bluetooth speakers. The phones are made from recycled plastic, "conflict free chips" and their packaging is 100% recyclable. All three men run Banana Phone as a side hustle. Charlie is an Industrial Engineer, Max is the president of a leather company and Brian works in eCommerce for Visa. Perhaps they want a Shark so they can go bananas full time.
Company Information
Video

Posts about Banana Phone on Shark Tank Blog
Banana Phone Shark Tank Recap
Max and Brian enter the Shark Tank seeking $250,000 for 10% of their business. They begin by saying there are three problems with the 9-5 work life: it's too boring, technology has made human interaction a thing of the past and there's not enough fun in the world. They pull their Banana Phones out and the Sharks chuckle. They explain the features and functions of the phone and their "save the gorillas" message.
The guys tell how it's been a side hustle for the past six years. They have lifetime sales of $1.6 million. Last years sales (2021) were $540,000 with $123,000 in net income. Brian says he was trying to "blow off" a colleague while pretending to talk into a banana and he thought to himself "my God, this has to exist."
Each phone costs $39.99 retail; landed cost is $6 per unit. They didn't pursue a patent but got the product trademarked to protect their brand. Sales for the past 2 years have spiked because they are advertising on social media. Customer acquisition cost is $9 and the Sharks think that's not bad. Kevin wants to know if they're willing to go full time – they are.
Who's In?
Kevin wants to know what they want the money for. They want to get into retail and Kevin groans. Brian says the product needs to be in the "beyond" section of Bed Bath and Beyond. Kevin doesn't like the retail idea; he doesn't need a banana phone in his portfolio – he's out. Marl thinks it's a great personal business but it's not for him; he's out. Robert doesn't think it's a scalable business for an investor, he's out. Lori doesn't like investing in novelty products, she's out. Barbara doesn't like the fact that the guys are part time, she's out too.
Banana Phone Shark Tank Update
The Shark Tank Blog constantly provides updates and follow-ups about entrepreneurs who have appeared on the Shark Tank TV show. In the immediate aftermath of the original air date, the guys saw a nice bump in sales. It will be interesting to see if they can sustain the momentum from "The Shark Tank Effect." As of August, 2023, all three guys are still working their regular jobs while selling Banana Phones..
The Shark Tank Blog will follow-up on Banana Phone & Max Brown and Brian Brunsing as more details become available.