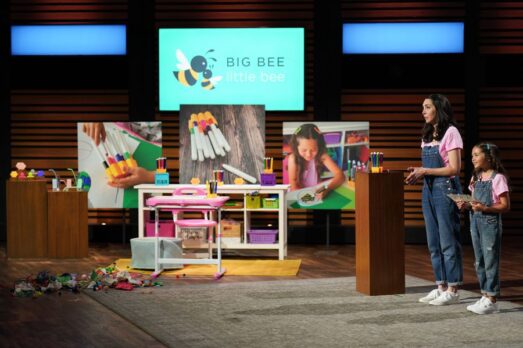 Mother/daughter team Amy and Marlo Leinbach showcase Big Bee Little Bee, their line of innovative products for kids and adults that help reduce single use plastics, in Shark Tank Episode 1405. Amy is a former teacher who's been doing voice-over work since she was a kid, Marlo is following in her footsteps as a budding voice-over artist as well. They started the business in 2016 and Amy claims Marlo inspires all their inventions.
Their line is varied and includes: the Marker Parker Coloring Organizer, The Scrubee Easy Grip Silicone Scrubber, The Big Scrubee Easy Grip Silicone Scrubber, Build a Straw Easy Clean Silicone Straw and Clean Bee Reusable Multi Purpose Towels. Each product functions to minimize the use of single use items. For instance, the towels sell as an alternative to paper towels.
Amy and Marlo's first product was the Scrubee. It was the first silicone scrubber to hit the market and it was an instant success. Things really took off in 2020 when their products were featured on Good Morning America and The View. Those appearances got them into buybuyBaby nationwide and allowed them to quadruple their retail presence in smaller retailers. The business has sales of nearly a quarter million dollars a year. They likely want to grow that number and a Shark could help.
Company Information
Video

Posts about Big Bee Little Bee on Shark Tank Blog
BigBee LittleBee Reduces Plastic Waste
Big Bee Little Bee Shark Tank Recap
Amy and Marlo enter the Shark Tank seeking $100,000 for 20% of their company. Amy asks what's the best part about arts and crafts time as Marlo dumps craft supplies on the floor while exclaiming "you're allowed to make a mess!" Amy says when it's over, the fun stops because there's stuff everywhere. If she doesn't find her markers and caps, the markers will dry out. Marlo then introduces the Marker Parker. Amy says the ergonomic shape and squishy texture makes it easy for kids to grip and it's fun design makes it easy for kids to put their markers back where they belong.
Marlo has drawings for all the Sharks. She asks the Sharks to try out their Marker Parkers. They tell Lori they're selling the Parker, not the markers. The model the Sharks have is only good for broad tip markers, but the next run will work for fine tip markers as well. They filed a provisional patent in November, 2021. Marlo thought of the idea in July, 2021. The product costs $2.71 landed and sells for $15. Marlo and Amy introduce the company's other products. Their "hero product" is the scrubber.
The Numbers
In 2021, they had $230,000 in sales with 80% coming from the scrubber. They had profits of $2200. This year, they are at $110,000 (July, 2022) and they did not have scrubbers in inventory in the first half of the year. She's down $77,000 because the Marker Parker was not in the pipeline at this time last year and they were already developing another product. Amy tearfully tells how her parents encouraged her to reach for the stars. Amy's fear of numbers stopped her from starting a business for a long time but her parents supported her. She wants to support Marlo and her ideas.  Amy has invested $166,000 into the business thus far.
Kevin says they don't get many 7 year olds in the Tank and he's impressed with Marlo. He's not impressed with Amy's fear of numbers. Kevin feels the business has a lot of problems, he's out. Amy introduces the newest product in the pipeline: a silicones food container. Mark says they have resilience which is a good entrepreneurial trait. They also have "inventor-itis," which id the worst trait for an entrepreneur. Mark is out. Lori loves how she's teaching Marlo, but she needs to work on perfecting one product. She thinks they're over extended and goes out. Emma admires them and what they've done; it warms her heart. Like Lori, Emma thinks they're over extended, she's out. Robert says his 4 year old twins would love their product. He was going to make an offer until he saw their other products. Robert isn't a licensing guy; he's out.
Big Bee Little Bee Shark Tank Update
The Shark Tank Blog constantly provides updates and follow-ups about entrepreneurs who have appeared on the Shark Tank TV show. In the 48 hours following the original air date, Amy's social media was inundated with "hateful comments" mocking her suitability as a mother. People claimed she exploited Marlo too. This led her to speak out on her Tik Tok account where she received overwhelming support from her cyber community. As for the business, the company added a silicone food storage container to their line. As of August, 2023, reliable revenue figures are unavailable.
The Shark Tank Blog will follow-up on Big Bee Little Bee & Amy and Marlo Leinbach as more details become available.