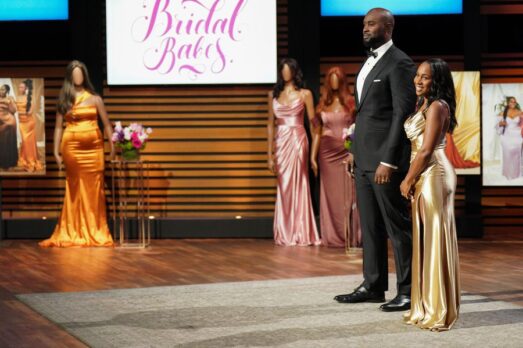 Charles and Ashley Young hope to dress up a deal for Bridal Babes, their line of wedding and bridesmaids dresses for women of color and curvy women of all colors, in Shark Tank Episode 1405. The company bills itself as a "bridal tech" company that provides wedding attire for women in bold colors and sexy, curve hugging designs. They work with customers via virtual consultations and sending swatches of fabric to them. They also offer in person consultations for those who can come to their Washington DC area location.
The dresses are very appealing and they have many different designs for brides and bridesmaids. Ashley got the idea for the business in 2016 when she was picking out bridesmaids dresses for her wedding. She couldn't find dresses that made her friends and family "look and feel amazing by my side," so she made her own. When her wedding photos went viral, she knew she had a good business idea. In addition to running a business, she also wants to create "a space for diversity in the multi-billion wedding industry by showcasing models and clients of all shades, shapes, and sizes."
The dresses aren't that expensive as most bride and bridesmaids dresses typically cost. Most are under $300. This is probably due in part to their virtual retail foot print. During the 2020 Covid-19 pandemic, she saw a downturn, but the company bounced back. In 2021, she received a $15,000 grant from Capital One for coming in second in their Black Girl Magic Pitch Competition. Now she wants a Shark to help her dress the masses.
Company Information
Video

Posts about Bridal Babes on Shark Tank Blog
Bridal Babes Shark Tank Recap
Charles and Ashley enter the Shark Tank seeking $250,000 for 10% equity in their company, the first bridal dress company for multicultural women and women with curves. They're changing the game with their curve hugging bridesmaids dresses. Ashley twirls around to show off the dress she's wearing. Charles says he remembers Ashley complaining about how hard it was to find the perfect bridesmaid dresses. Ashley says the traditional dress buying experience was horrible. When she found a design she liked, she made them.
Charles says their wedding photos went viral because nobody had seen dresses like this before. That's when they knew they were on to something. The couple went from high school sweethearts to newlyweds to business partners over night. They create curve hugging dresses with colors that pop on all skin tones. They explain how they do virtual consultations and how they've created a thriving social media community.
The Sharks love the dresses. Their classic collection costs $13.31 to make and they sell for $44. The deluxe collection costs $67 landed and sells for $260. Ashley says these aren't high prices for bridesmaids dresses. They offer and affordable line and a high end line. They want to serve an audience that's been overlooked for years. Emma totally gets it and she says there's a gap in the market for "the whole inclusive thing." They stock sizes 2-26 and they have special orders for sizes 26-32.
Let's Talk Customers
Kevin inquires about customer acquisition costs. They have around 90,000  Instagram followers and 60,000 Tik Tok followers. They post content daily, but the "secret sauce" is their fabric. The Sharks grab their sample swaths and stretch them. The fabric looks like satin and curvy women usually can't wear satin; this is why their wedding photos went viral. The fabric helps drape the curves and helps keep returns low. Lifetime sales are $2 million. Year to date (mid 2022) they are at $850,000 in sales. In 2019, they had $30,000 in sales. in 2020, they had $200,000 in sales. 2021 closed out at $950,000 in sales. They project closing the year at $1.2 million. The Sharks are impressed.
When Robert asks if they're profitable, Charles tells them last year (2021) they made $30,000 in profits. They each draw a $60,000 salary. 30% of revenue is spent on advertising. The good thing is, one customer equals multiple dresses. Margins are at 70% for both ranges of dresses. All sales are direct to consumer. Lori asks about their backgrounds. Ashley's background is in marketing. For ten years she worked with big brands and she was a pioneer with Facebook ads. Charles played football most of his life, then became a child psychologist. He became a detective before founding the business with his wife. The couple's vision is to showcase diversity in the bridal space. Charles says they want to be a $500 million company.
Mark wants to know what they need. Charles says he needs a bigger team to get their supply chain tightened up. Currently it's just the two of them plus a seasonal contractor. They have several overseas manufacturers. It takes two weeks to produce a dress and shipping costs are high because they ship by air.
Robert loves the business but says he can add value in the bridal dress business; he's out. Kevin knows the challenges in the bridal space but feels they don't know their customer acquisition costs; he's out. Emma likes that their business is rooted in community. Emma offers $250,000 for 25% of the business. After a commercial break, Charles counters with 17.5%. Emma counters with 20% and they agree to a deal.
Bridal Babes Shark Tank Update
The Shark Tank Blog constantly provides updates and follow-ups about entrepreneurs who have appeared on the Shark Tank TV show. The deal with Emma closed and the company used the funds for more inventory and for a planned move to a fulfillment center in 2023. The couple says Emma has been a big help with making operations more efficient. As of December, 2022, the company has over $1.4 million in sales for the year. In early 2023, they added jewlery to their offerings. By August, 2023, they had surpassed $2 million in sales for the year.
The Shark Tank Blog will follow-up on Bridal Babes & Charles and Ashley Young as more details become available.