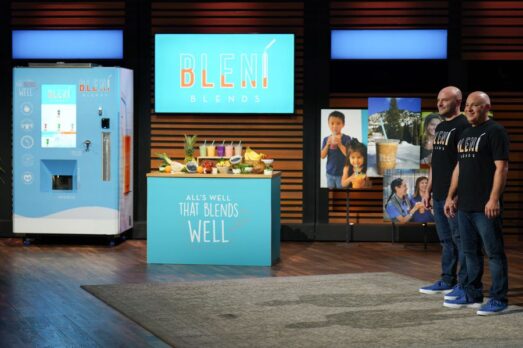 Entrepreneurial brothers Stuart and Peter Shapiro pitch Bleni, their smoothie vending machines, in Shark Tank episode 1415. The brothers have a background in real estate, recovering assets and creditor's rights. Both attended Tulane University. In 2016, they started Robotic Desserts, LLC, as owner-operators of the Reis & Irvy's frozen yogurt robot in the Greater Philadelphia area.
They started Bleni in 2019 under the umbrella company Elysium Marketing Group. They are marketing the product as a business opportunity which encourages entrepreneurs to purchase machines, place them in good locations and service them. Each machine is 12 square feet. They currently have 41 machines in the field all over the USA.
Each machine has a touch screen ordering system that accepts Credit Cards, Debit Cards, Apple Pay, Google Wallet, and some Campus Cards. The Bleni machines vend 6 smoothy flavors and iced coffee. The blends come pre-packaged for insertion into the machine and contain fresh ingredients. All the blends are dairy-free and aseptically packaged which allows an extended shelf life without any refrigeration. Machine owners spend about five hours per week servicing their machines to clean and restock them. The Shapiro brothers likely want a Shark to help them scale quickly.
Company Information
Video

Posts about Bleni on Shark Tank Blog
Bleni Blends – Smoothies Vending Machines
Bleni Shark Tank Recap
Stuart and Peter enter the Shark Tank seeking $250,000 for a 6% equity stake in their company. They talk about mthe typical chips and soda you can get from a vending machine then introduce their machine that serves smoothies with natural ingredients, no artificial flavors and no added sugar. They say it's like having an automated smoothie shop in 12 square feet.
The Sharks sip on their samples and they all like them. The smoothies are asepticly packaged in pouches so they're shelf stable. They package them in three facilities in the USA. The guys talk about their entrepreneurial background in real estate and they discovered the world of unattended retail. They flew to Canada and saw the Bleni machine and got a license arrangement with exclusive rights to the USA for the next 15 years.
They have 41 machines in the market and 20 in their warehouse. Their best producing machine does $8000 a month. They'll place machines and service them or sell the machine outright and sell the fruit pouches to the operator. Each smoothie costs $1.40 and sells for $5. In 2020, they had $10,000 in sales; in 2021 they had $275,000 and so far in 2022 (mid summer), they have $465,000 and they're on track to finish the year with $1.5 million.
Each machine costs $19,500 and they sell it for $30,000. The machines are manufactured overseas and the brothers have a $4 million option to buy out the patent holder. They ordered 80 units in 2022 and will order 100 in 2023 and 120 in 2024. Their goal is to buy ouy the patent holder.
Kevin doesn't like the capital expense of the machines; he's out. The guys tell the Sharks they've put $1.2 million of their own money into the business. Daymond is concerned about the guys hitting their numbers; he's out. Mark is concerned about the posssibilities of technological obsolesence; he's out. Lori and Daniel have been whispering to each other. Lori thinks the smoothies are phenominal. She and Daniel offer $250,000 for 35% of the business. They counter with 15% but Daniel won't budge, neither will Lori. Daniel says they'll offer a $500,000 line of credit in addition to the $250,000 and the brothers accept the deal.
Bleni Shark Tank Update
The Shark Tank Blog constantly provides updates and follow-ups about entrepreneurs who have appeared on the Shark Tank TV show. The deal with Lori and Daniel didn't close. As of May, 2023 (less than a year after taping), they have 58 machines in the field across the USA and Canada. They also are conducting a pilot program with Wal Mart in Denver. It involves a "robo cafe" concept Wal Mart is testing. If the pilot goes well, Bleni could be in every Wal Mart in the USA.
The Shark Tank Blog will follow-up on Bleni & Stuart and Peter Shapiro as more details become available.