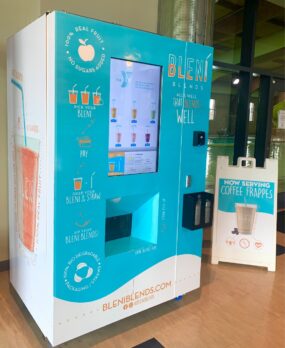 Stuart and Peter Shapiro invented their Bleni Blends Smoothies Vending Machine after a couple of years in the frozen yogurt vending machine business. They saw the value of having convenient, healthy vending options in a world of unhealthy vending snack options. Instead of an empty calorie soda and chips, their vending machines offer fresh fruit smoothies with zero fat and relatively low calories while delivering maximum taste.
Their business is to sell their machines to other entrepreneurs who then operate their own business using Bleni Blends proprietary, pre- packaged smoothie blends. While the company website solicits inquiry, it doesn't list pricing for the machines or blends on the page. The macines are all cashless, which adds a little comfort to the entrepreneur placing the machine. They say each machine takes about 5 hours a week to service, which involves cleaning and restocking the machine. The pre-packaged blends are dairy free and require no refrigeration.
With only 41 machines placed nationwide, they're just getting started. Bleni Blends are high tech with touch screens and electronic card readers. Popular locations include airports, hospitals, gyms and anywhere else there are limited food or drink options. So far, feedback from machine owners is positive. T Shapiro brothers are likely in the Tank to help scale the business.
My Take on Bleni Blends
I like a good smoothie. My wife makes them every morning for my daughter and I. One of my daughter's friends works in a smoothie shop that's walking distance from our house, so we get them there ocaissionally too. I like my strawberry, banana and orange juice smoothie as a way to start my day.
I actually owned 20 vending machines in the 1990's. They were the bulk candy variety. It was a good little business for a while, but the machines got vandalized or started breaking down. My concern with Bleni Blends is twofold: vandalism and hygene. While there is no cash in the machine, there are plenty of idiots out there who'd break them just for kicks. Bleni says you should clean your machines once a week, but how can I, as a consumer, be sure the owner is doing a good job? I'm not sure I'd be confident buying from such a machine.
Do Sharks Like Vending?
I think the Shapiros will have a tough road in the Shark Tank. The first objection they'll face is their sales: only 41 machines since September, 2019. That will be tough to overcome. The other objections are the same ones I raised: vandalism and cleanliness. While I think this is a sexy vending machine for those who like this business, I don't think the Sharks will.