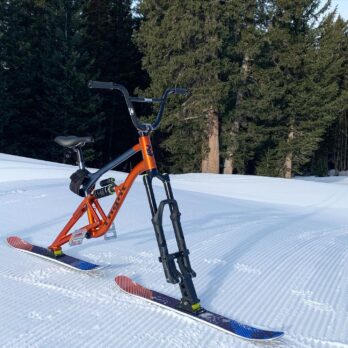 Tngnt (pronounced "tangent") ski bikes are a labor of love for co-founders and friends Bill Pierce and Scott Carr. They've been riding ski bikes together since the 1980's but ski bikes have been used in the Alps as a mode of transportation for over 150 years. They first surfaced in the USA when a man named J. C. Stevens patented the idea of a bicycle where the front wheel was replaced by a ski; he called it the "Ice Velocopide." There are several other international patents for iterations of the ski bike, but the modern versions of ski bikes are from Austrian Engineer Engelbert Brenter's invention called the "Sit Ski." It had a suspension and skis instead of wheels where earlier versions had sled-like runners.
Over the years, people came to refer to a ski bike as a "ski-bob." They first appeared in the USA in 1963 when a man named William Cartwright imported some from Europe and formed the Skibob Club of Santa Rosa. Unfortunately, ski areas weren't keen on ski bikes and the sport is only available at select resorts. Recently, it's been making a comeback and that's where Tngnt comes in.
The company has a total of 19 patents on its bikes. There are three models for varied degrees of ski biking skill. They cost anywhere from $999 to $2399. Bill and Scott manufacture overseas, so they may be looking for help with that. They might also need some cash to buy a vowel.
My Take on Tngnt Ski Bikes
When I was a kid, I rode these on several occaisions, but the ones I rode had a tricycle configuration. I had a blast riding them; we called them ski-bobs back then. My winter outdoor recreation days are over. I won't "do" snow ever again, so I'm not a customer, but they look like they're a lot of fun.
Do Sharks Ski?
While this looks like a fun product, I'm afraid they aren't going to get a deal. While Barbara is a skier, I think she'll be frightened by this method of riding. Heck, the company makes you sign a liability waiver just to buy one! The only real hope is Mark. He invested in Guardian Bikes back in season 8. They recently opened a factory in Seymour, Indiana. If there's some synergy with manufacturing, Mark could make an offer.