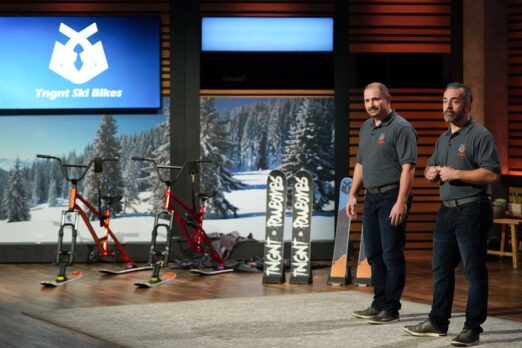 Charles W. "Bill" Pierce and Scott Carr seek an investment for Tngnt (pronounced like tangent), their ski bike manufacturing company, in Shark Tank episode 1421. The two are old high school pals who enjoyed ski biking together back in the 1980's. Both men continued to enjoy the sport into adulthood and in 2014, they set out to design the next generation of ski bikes. Bill has a background in design and aerospace technology and Scott had been dabbling in other ski bike companies for a number of years. Scott approached Bill about designing new ski bikes and their journey began.
Tngnt has 19 patents on their bikes, the most significant one being their ski retention sytem patent. This is how the skis attach to the bike. Apparently, their system makes for a more maneuverable ski bike. They have one competing company in the USA and they do some of their manufacturing overseas to keep prices down. While the company wants to sell you a ski bike, they also don't want to get sued. Customers must sign a liability waiver to complete a purchas.
As for the bikes, there are three models: The Drift, The Carve 2.0 and the Carve 2.0 Pro. All models have pedals that spin like on a real bike; they say this allows for better turns.The Drift is an model designed to introduce people to ski biking. It's a faily basic model and costs $999. The Carve 2.0 is for people who want to ski a bit more extremely. It's equipped with shock absorbers in the forks and frame. This one will set you back $1499. The Carve 2.0 Pro is for the most daring of ski bikers with heavier duty shocks. That one is $2399. Bill and Scott are likely in the Tank to get help with inventory.
Company Information
Video

Posts about Tngnt Ski Bikes on Shark Tank Blog
Tngnt Ski Bikes Shark Tank Recap
Bill and Scott will pitch the panel of five Sharks on the business and its prospects for growth. Mark Cuban, Barbara Corcoran, Lori Greiner, Robert Herjavec and Kevin O'Leary that the company is worthy of a Shark investment. A good business plan, good financials, and sales data will impress the Sharks, but they'll need to show them THEY are capable of running the company to "Shark standards." A full pitch re-cap on Tngnt Ski Bikes will be available on Shark Tank Blog once this episode airs.
Tngnt Ski Bikes Shark Tank Update
The Shark Tank Blog constantly provides updates and follow-ups about entrepreneurs who have appeared on the Shark Tank TV show. Once an episode has aired, we monitor the progress of the businesses featured, whether they receive funding or not and report on their progress. The Shark Tank Blog will follow-up on Tngnt Ski Bikes & Charles W. "Bill" Pierce and Scott Carr as more details become available.