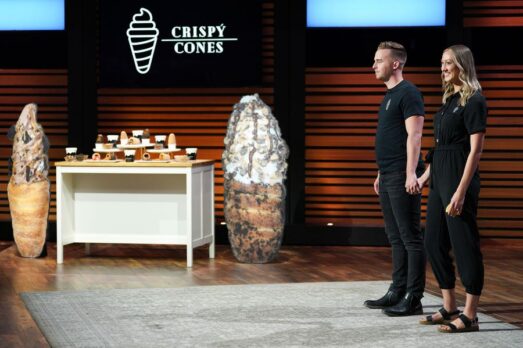 Jeremy and Kaitlyn Carlson hope a Shark bites on Crispy Cones, their soft serve ice cream franchise opportunity with a new twist on the ice cream cone, in Shark Tank episode 1421. They serve their soft serve ice cream in cones made from fresh dough and grilled rotisserie-style then covered with cinnamon and sugar or crushed Oreos. They fill the cones with choice of spread (think Nutella or peanut butter), gourmet soft-serve ice cream, fruit, and a variety of delicious toppings.
Jeremy first encountered the cones while doing missionary work for The Church of Jesus Christ of Latter-day Saints in the Czech Republic. He believed folks in the USA would like them, so he opened a trailer to sell them while he was a studentBrigham Young University. He and his wife opened their first storefront in Logan, Utah in May 2020 and a second in Rexburg, Idaho shortly thereafter.
Apparently, Jeremy was right. People love his cones. The couple's goal is to franchise the concept. There's a franchise application on their website. They likely want a Shark who's had experience with franchising to help them grow their new concept.
Company Information
Video

Posts about Crispy Cones on Shark Tank Blog
Crispy Cone Franchise Opportunity
Crispy Cones Shark Tank Recap
Jeremy and Kaitlyn enter the Shark Tank seeking $200,000 for 10% equity in their company. They did a deal with Barbara for $200,000 for 20%.
Crispy Cones Shark Tank Update
The Shark Tank Blog constantly provides updates and follow-ups about entrepreneurs who have appeared on the Shark Tank TV show.
The first rerun of this episode in June, 2023 is just 3 months after the original air date. At this time, there is no evidence the deal with Barbara closed. At this time, a franchise opened in Chandler, Arizona and one in Provo, Utah is "coming soon." As of November, 2023, the company has six locations. 2 in Arizona, the Provo location, 1 in Orlando and the 2 original stores. At this time, annaul revenue is over $1 million.
The Shark Tank Blog will follow-up on Crispy Cones & Jeremy and Kaitlyn Carlson  as more details become available.