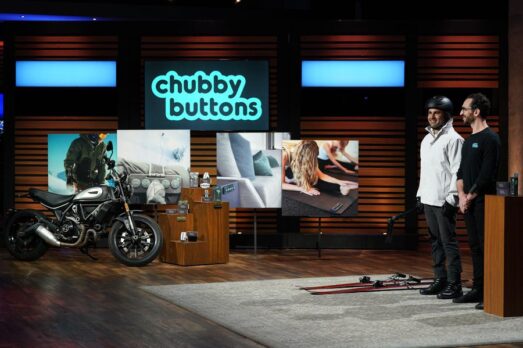 Mike Cherkezian and Justin Barad  seek an investment for Chubby Buttons, their smart phone accessory that lets you control your smart phone with gloves on, in Shark Tank episode 1421. The pair founded the company in 2017 to create a device that would make it easier for "adventure sports enthusiasts" to control their phones. Chubby Buttons is a device with five oversized buttons that can be mounted to a smooth surce, around your arm  on handlebars and in many other places.
You simply program the device to be compatible with your phone via Bluetooth and you can control music volume, answer the phone, take photos and more. The oversized buttons make it easy to use these functions with gloves on. It's a "must have" gadgget for skiiers, motorcyclists or any othe sport where gloves are a neccessity. It works with Android and Apple devices and it's durable and water resistent. The cost is $79.99.
The business is a part time endeavor for Cherkezian who also works as an investment research sales associate. To date, the company has over $1.6 million in sales and it's debt free: they sold 5000 units in their first year in business and recouped all their investors' money in that time. The company likely wants a Shark to take them to the next level.
Company Information
Video

Posts about Chubby Buttons on Shark Tank Blog
Chubby Buttons Shark Tank Recap
Mike and Justin enter the Shark Tank seeking $250,000 for 8% equity in their company. Kevin made a steep royalty offer, but they declined it.
Chubby Buttons Shark Tank Update
The Shark Tank Blog constantly provides updates and follow-ups about entrepreneurs who have appeared on the Shark Tank TV show.
The first rerun of this episode in June, 2023 is just 3 months after the original air date. The company saw the typical bump in sales due to the "Shark Tank effect," but not much has developed since then.
The Shark Tank Blog will follow-up on Chubby Buttons & Mike Cherkezian and Justin Barad as more details become available.