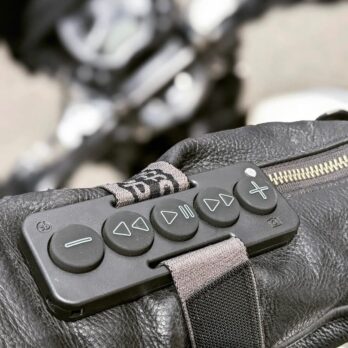 Mike Cherkezian and Justin Barad created ChubbyButtons to solve a problem: operating your smart phone with gloves on. Imagine you're skiing down a slope, listening to music on your phone and you want to change playlists. You'd have to stop, take off your gloves, take your phone out of your pocket and punch a few buttons. While I'd still recommend stopping, the other steps can now be eliminated. Chubby Buttons is a Bluetooth enabled device with buttons that are chubby enough to use with gloves on.
Now you can control your phone while skiing, riding your motorcycle or anything else you do with gloves on; but you don't have to take your gloves off. Whether it's controling music volume, answering the phone or taking photos, you can keep the gloves on. You can mount ChubbyButtons on your sleeve, handlebars or any smooth surface. It's quickly becoming a "must have" accessory for iPhones and Android devices.
The cost is $79.99 and the company sold over 5000 units in its first year. Lifetime sales are approaching $2 million. Mike and Justin will pitch their product in Shark Tank episode 1421. They likely need cash for inventory. Will this business push a Shark's buttons?
My Take on ChubbyButtons
When I used to ski, flip phones were just coming out. If you wanted music while skiing, you had to have a Walkman. How times have changed! If I still skied, I'd probably want this product. It is definitely a handy item, but it's not something I'd personally use at this stage of my life. I wish them well.
Do Sharks Push Their Buttons?
This company is debt free and has sales. If the valuation is solid, ChubbyButtons should field some offers. I totally expect Mr. Wonderful to make a royalty offer as I expect the margins are good. Barbara isn't big on tech products, so she's likely to go out. I'm not sure about Lori, but it could be demonstrated on QVC.
Mark could go either way. He could view it as a "product not a company" or he could think it's cool and make an offer. The same goes for Robert. I expect this business to get an offer or two, the question is, will they take it?