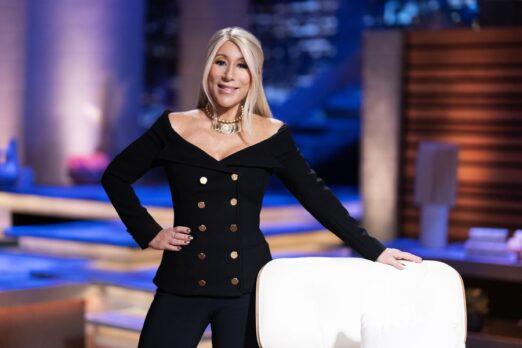 Shark Tank episode 1421 features Mark, Barbara, Kevin, Lori and Robert on the panel. Together, they'll evaluate 4 new businesses and decide whether they're worthy of an investment. Which Shark(s) make an investment tonight?
Husband and wife team Jeremy and Kaitlyn Carlson want a Shark to bite on Crispy Cones, their soft serve ice cream franchise opportunity that features rottisserie grilled cones. Mike Cherkezian and Justin Barad hope to get a deal for Chubby Buttons, their Bluetooth device for controlling smart phones with gloves on. Woody Sears pitches Autio, a newly re-branded storytelling travel app that counts actor Kevin Costner as  an investor. "Bill" Pierce and Scott Carr seek an investment for Tngnt (pronounced like tangent), their mountain ski bike manufacturing company.
Way back in season 6, then 10 year old Mikaila Ulmer did a deal with Daymond John. Daymond invested $60,000 for 25% of Bee Sweet Lemonade. Now 18, Mikaila returns to give us an update on her re-branded product "Me and the Bees."
The Sharks
---
Daymond John
Robert Herjavec
There are 26  Shark Tank Episodes for Season 14. This season features the six "regular" Sharks: Mark, Daymond Kevin, Lori, Barbara and Robert. There are two new guest Sharks for season 14: Actress Gwyneth Paltrow and Door Dash founder Tony Xu. Returning "recurring" Sharks are Emma Grede, Peter Jones, Kendra Scott and Daniel Lubetzky. Casting is currently closed, but it never hurts to get a head start on season fourteen! If you would like to appear on the show, check out our Auditions and Casting information.
Episode 1421 – The Shark Investors and Entrepreneurs
The Shark Tank Episode 1421 entrepreneurs will make their best pitch to the panel of five Shark investors who will use their own money if they choose to invest. The Shark Investors negotiate on the spot without any previous information, which differs from typical negotiations between venture capital investors and entrepreneurial start-ups.
Companies pitching the Shark Investors must go through a rigorous due diligence process before an on-air deal is completed. Shark Tank Blog follow ups help you keep track of the companies that end up successful and the ones that don't complete their deal.
Thank you for reading SharkTankBlog, the number one site for Entrepreneurs, Investors and Fans. Our content updates multiple times day, giving you the latest information on Episode 1421, Season 14, and all other seasons and episodes.
Episode 1421 Press Release
Shark Tank: "Episode 1421"
Entrepreneurs come into the Tank eager to secure a deal with a Shark. This episode features pitches including a twist to a sweet treat, a wireless gadget for easy cell handling, an app for travel enthusiasts and innovative winter equipment.
First into the Tank is a husband and wife from St. Anthony, Idaho, who are revolutionizing soft serve with their twist on a traditional ice cream cone. Next into the Tank are entrepreneurs from New York City who introduce their wearable wireless product designed to help control your phone safely while on the move; while an entrepreneur from Santa Barbara, California, brings the Sharks on a trip with his smart application designed to take travel to the next level. Last into the Tank are entrepreneurs from Salt Lake City who present their innovative high-performance equipment designed for avid winter enthusiasts to shred down a resort run. In a Shark Tank update, Mikaila Ulmer from Austin, Texas, updates us on Bee Sweet Lemonade, her business thriving in sales after securing a deal with Daymond John.
The Sharks in this episode are Mark Cuban, Barbara Corcoran, Lori Greiner, Robert Herjavec and Kevin O'Leary.