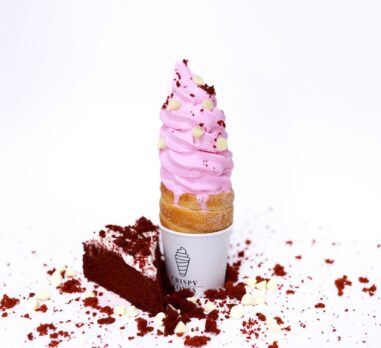 Jeremy Carlson started his first Crispy Cone trailer while he was still a student at BYU. At first glimpse, you might think "big deal," but it isn't the soft serve ice cream that makes this ice cream shop franchise opportunity special, it's the cones. While doing missionary work in Czechoslovakia, Jeremy saw what would become the basis for his business venture. A Crispy Cone is made with dough then grilled and rolled in cinamon and sugar or crushed oreos. That's a treat in itself!
Once the cone is grilled, you can put whatever you want into it: ice cream, nutella, cookie batter, peanut butter and more. There are a wide variety of toppings too. The cones, sold separately from the ice cream, cost $6.49. If you're counting calories, this isn't the place for you!
After he graduated, he opened a brick and mortar shop in May, 2020 in Logan, Utah and another in Rexburg, Idaho. Jeremy plans on growth through storefronts in college towns. He offers franchises on his site: "franchise fee is $30,000. When buying a territory with multiple locations, each additional store after the first is $25,000. Royalty fees paid to corporate are 5% plus a 1% advertising fee. The buildout costs of the stores are the franchisee's responsibility." They currently plan on offering franchises in Idaho, Utah, Arizona, Nevada, New Mexico, Texas, Arkansas, Florida, Colorado and Louisiana with additional states coming on as they company grows. Jeremy likely wants a Shark's help managing that growth.
My Take on Crispy Cone
I like ice cream, but I rarely eat it because I count calories. These cones sound like a decadent treat that I'd try once. As for the franchising concept, I think it will be a successful one. People LOVE ice cream and the added novelty of the grilled cones will help the stores stand out. I'm in.
Will Sharks Like These Cones?
Food franchises have done well in the Tank, wheyther the deals closed or not. Press Waffle and The Yard come to mind as recent successes. Since Crispy Cone is just starting, they should investigate the cautionary tale of Tom and Chee growing too fast. That's probably the biggest objection they'll face: their size.
As for the Sharks, Barbara and Mark have invested in franchises successfully. Kevin did an on air deal once with How Do You Roll, but it never closed. Lori and Robert usually don't go for franchises, so if there are offers, they'll come from Mark or Barbara who both have proven success with franchising.