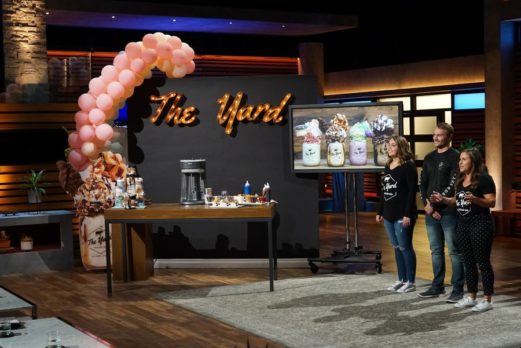 Logan and Chelsea Green want to shake things up in the Tank with The Yard, their "Freak Shake" franchise, in episode 1109. Freak Shakes are milkshakes, usually served in mason jars, topped with cream, cake, sauce and candy. The monstrous shakes first appeared in Australia a few years ago. Part of the fun of Freak Shakes is taking photos of the final product. In the age of Instagram, they quickly became a global phenomena. At approximately 1500 calories apiece, they are the antithesis to the "clean food" movement.
Enter the Greens. Logan worked for the family electrician business and Chelsea worked in the family convenience store. In 2011, Chelsea opened an ice cream shop with her mother. By 2017 they had two shops, but Chelsea wanted something more. When she opened the second shop, she brainstormed for ideas and decided Freak Shakes were the way to go. The couple called it The Yard and the rest is history.
The Yard opened in the couple's hometown of Gulf Shores, Alabama in May of 2017 and it was an instant hit. They quickly expanded to Panama City Beach, Florida; Fairhope, Alabama and Austin, Texas. In addition, they have two franchises in D'Iberville and Hattiesburg, Mississippi.  The Greens want to take the global Freak Shake phenomena national via franchising The Yard. They'd like a Shark to help them manage their growth.
Company Information
Video

Posts about The Yard on Shark Tank Blog
The Yard Shark Tank Recap
Logan and Chelsea enter seeking $400,000 for  10% of their franchise business. They hand out samples and the Sharks are curious about calorie counts. Each shake has between 650 and 1800 calories. The couple explains that they have four locations, one franchise and one franchise in development.
Net sales on their four locations was $3.4 million last year with a $400,000 profit. The Sharks want to know why they want a partner and Logan says it would same them "a decade of knowledge." They currently sell franchises for $45,000 for a ten year license with a 6% royalty on sales and a 2% marketing royalty. Total cost to open a franchise is $140,000-$315,000.
Kevin offers $400,000 for 15% of EVERYTHING: both franchises and company stores. Lori makes the same offer but for 12.5%. Mark says he doesn't want the company srtores. He offers $400,000 for 25%. They get him down to 22% and do the deal.
The Yard Shark Tank Update
The Shark Tank Blog constantly provides updates and follow-ups about entrepreneurs who have appeared on the Shark Tank TV show. The deal with Mark did not close and the company has a new franchise location opening sometime in the summer of 2020 – though Covid 19 may have put that off a few months.