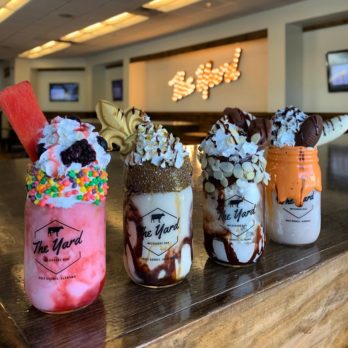 The Yard takes milkshakes to a whole new level. They make what's come to be known online as Freak Shakes. The Freak Shake phenomena began a few years ago in Australia when somebody made an outrageous milkshake with ice cream, candy, cream, fudge sauce and more. They put it in a mason jar and snapped a photo of it on Instagram. Soon, Freak Shakes became an online sensation and everybody was making them.
Around the same time as the milkshakes were taking over the internet, Chelsea Green was opening her second ice cream shop with her mother in their hometown of Gulf Shores, Alabama. She wanted to do something different than a "regular" ice cream shop, so she decided to call the place The Yard and serve Freak Shakes. The concept was a big hit in the coastal resort community and before long, she enlisted the help of her husband, Logan, and started expanding.
The Yard has 18 "specialty" milkshakes, plus a daily special. You can also build your own shake with their 30 plus flavors of ice cream and dozens of specialty add-ins and toppings. Each shake checks in at approximately 1500 calories, so they aren't for dieters! For the more reserved patrons, there are typical ice cream parlor items too.
The Greens quickly grew their "Yard Empire" to three additional locations and two franchised locations. They have shops in Florida, Alabama, Texas and Mississippi. Ideally, they'd like to see a Yard in every state of the union. Their goal is to get there by franchising and they'd like a Shark to help them.
My Take on The Yard
I consume about 2200 calories a day. One Yard milkshake would totally screw up my diet! They look decadently delicious and I could see myself eating one (or maybe sharing one) for a special occasion. Since they have locations in mostly "vacation communities," they likely get a steady stream of people celebrating special times.
I know my kids would freak over these shakes. One of my daughters practically lives on ice cream: she'd love this place. As for me, I'll stick to more subdued (and less caloric) desserts, but I think this little milkshake bar will go far.
Will The Sharks Freak?
Healthy food items have been making inroads in the Tank in recent years and, despite any objection by the Greens, Freak Shakes are NOT healthy. Mark Cuban invests in healthy foods frequently, but last year he made a $250,000 for Fat Shack, a fast casual concept that makes 2000 calorie sandwiches. You wouldn't want to eat there before going to The Yard for dessert! Mark didn't close that deal, but it shows he's willing to bid on strong concepts – healthy or otherwise.
Mr. Wonderful has interests in franchised food businesses as well, plus he invested in Wicked Good Cupcakes (not exactly health food either), so he may be interested. Lori, Robert and Daymond generally don't go for restaurants, so I don't think they'll bid. If the Greens want a deal, they better pitch Mark and Kevin hard.