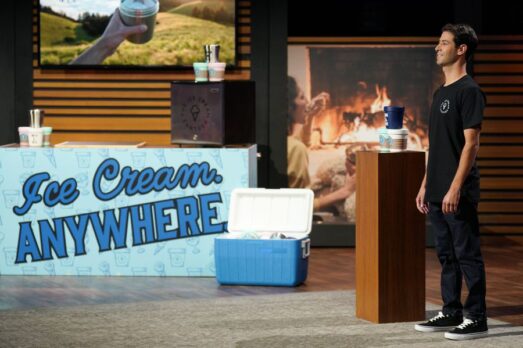 Jordan Stern hopes to make a cool deal for The Ice Cream Canteen, his thermos-like device that keeps a pint of ice cream cold for hours, in Shark Tank episode 1415. Jordan graduated Cal Poly Tech San Luis Obispo in 2012 and traveled around the country in his camper van. It was on that trip He got the idea for The Ice Cream Canteen. He thought if thermoses worked for coffee, maybe they could work for ice cream, too. After many prototypes, he finally had a product ready for the marketplace.
Each unit fits standard ice cream pint containers. It will keep ice cream cold for up to 4 hours or 8 hours in a cooler with ice. Pre-chilling the canteen before adding a pint and hitting the road will prolong the life of your ice cream, too. The lid seals water tight and will not leak. It's recommended that you hand wash your Ice Cream Canteen and not use it in the microwave.
He got things started with a successfull Kickstarter campaign that raised $121,218 back in August, 2019. He delivered products to backers a year later in August, 2020. Now, you can buy the product on the company website and on Amazon. Justin also offers Ice Cream Canteens with custom logos for  ice cream shops or as advertising specialties. Justin likely wants a Shark's help developing more products and for inventory.
Company Information
Video

Posts about The Ice Cream Canteen on Shark Tank Blog
Ice Cream Canteen – Ice Cream Anywhere
The Ice Cream Canteen Shark Tank Recap
Jordan enters the Shark Tank seeking $100,000 for 5% equity in his company. He pulls a pint of ice cream from a freezer and says you can't take it anywhere because it melts so quickly. Next, he grabs his Ice Cream Canteen and says it's the world's first double walled, vacuum sealed ice cream container for transport. He puts the pint in the canteen and says it will stay frozen for hours without a freezer.
He asks Mark to come up onstage to test it. Jordan hands Mark a blowtorch and asks him to try and melt the ice cream. Mark torches it for a half a minute and he lights the table on fire. When Jordan opens the canteen, the ice cream is still frozen. The Sharks applaud. Mark leaves the stage eating the pint of ice cream. Jordan says his invention will allow people to enjoy ice cream at the beach, picnics, barbecues and more.
Daniel says Jordan is serving a huge nedd; he loves it.  Jordan explains there is no need to pre-chill the container, but the ice cream lasts longer if you do. The ice cream will remain frozen for four hours, eight hours if it's in a cooler with ice. There are two competing, but inferior, products on the market. Jordan has a design patent pending and three registered trademarks.
Jordan sells the canteen for $44.99 and it costs him $7.50 landed. Jordan wants to put his product in the 80,000 plus ice cream shops all over the USA. 2021 sales were $98,000. Year to date (mid 2022), he has $180,000 in sales and expects to get to $400,000 by the end of the year. Net profits are 50%. He started the business with $15,000 in credit card debt. He needs the money for inventory so he can stop leaving opportunities on the table.
Kevin likes it and offers $100,000 for 30%. Daymond says Jordan isn't valuing the Shark's help; he's out. Daniel says he's excited and he has relationships with retailers all over the country; he wants to know what Jordan needs. Jordan says he wants help with retail distribution. Lori touts her relationship with Frozen Farmer. Mark and Lori team up to offer Jordan $100,000 and a $100,000 line of credit for 25%.
The Sharks start arguing amongst themselves as Jordan chuckles. Jordan asks if he should counter offer and Daniel asks him if he wants to hear his offer. Jordan says he wants to counter Lori and Mark first. He explains his $2 million valuation by saying if he had inventory, he'd be at $800,000 in sales. Mark says Jordan shouldn't think about percentages at his current rate of sales but at ten times that. Jordan counters with 15% and Mark says they'll add another $100,000 line of credit to the deal. After some hesitation, Jordan takes the deal.
The Ice Cream Canteen Shark Tank Update
The Shark Tank Blog constantly provides updates and follow-ups about entrepreneurs who have appeared on the Shark Tank TV show. The deal with the Sharks closed. Since doing the deal (in the summer of 2022), Jordan has partnered with Salt and Straw to offer branded canteens on their website and in their shops. He also works with many small shops across the country.
The Shark Tank Blog will follow-up on The Ice Cream Canteen & Jordan Stern as more details become available.