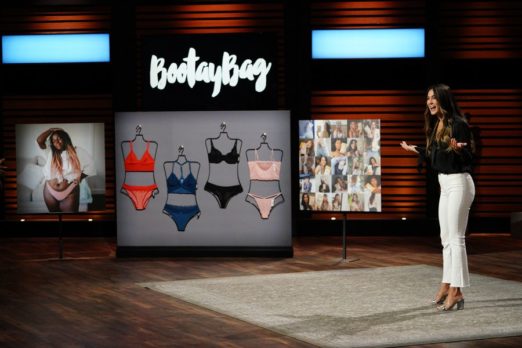 Elly Gheno hopes the Sharks invest in BootayBag, her women's underwear subscription box business, in Shark Tank episode 1202. Gheno started the business in 2015 after contemplating cancelling her BirchBox subscription due to low funds. At the time, she thought what she really needed was an underwear subscription box. She realized many women viewed shopping for underwear as a chore – including herself. So Elly did what any entrepreneur would do: she started BootayBag.
It's pretty simple. For $15 a month you get 2 matching sets of bras and panties delivered. On the website, you pick size, and style (or opt to "mix things up") and every month there are new undies in the mail. You can cancel at any time or add extra undies to a monthly order. There's also a one set of undies per month option for $10.
Elly donates undies to The Undies Project, Period Kits, and other organizations to provide underwear for women in shelters. She's spent a lot of effort creating an online community of women, too. She takes feedback on what they like and dislike as well as creating a "safe space" for discussing women's issues. This approach earned her loyal customers and strengthens her brand. Elly hopes a Shark will want to partner with her to grow the business even more.
Company Information
Video

Posts about BootayBag on Shark Tank Blog
Bootay Bag – Women"s Underwear Subscription
BootayBag Shark Tank Recap
Elly enters the Shark Tank seeking $500,000 for 5% of her company. She explains her business and the Sharks review her samples. Elly is at the mercy of her brokers and has long lead times to get inventory. She wants a partner that can help with that. Sales year to date (2020) are $3 million and she has $15 million in lifetime sales. The Sharks are impressed.
Kendra and Barbara team up to offer $500,000 for 20%. Kevin offers $500,000 for 15%. When Kendra realizes Elly isn't comfortable with giving up 20%, she cuts Barbara out of the deal and offers $500,000 for 10%. Elly excitedly accepts.
BootayBag Shark Tank Update
The Shark Tank Blog constantly provides updates and follow-ups about entrepreneurs who have appeared on the Shark Tank TV show. It appears the deal with Kendra closed. Elly now designs and manufactures her own branded undies and bras. As of October, 2022, she's added bodysuits, dresses, corsets, shorts, and leggings to the line. As of July, 2023, the company is open and has lifetime revenue of over $12 million.