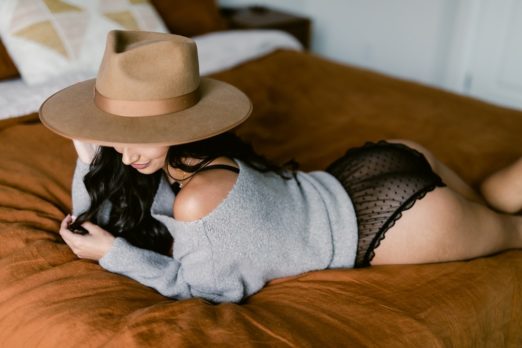 Bootay Bag founder Ely Gheno wasn't sure she had the chops to become an entrepreneur, but she always had it in the back of her mind.  When Ely dropped out of college and attended cosmetology school, she had no idea she'd be selling underwear by mail. Her "Aha moment" came shortly after moving to Denver in 2015. She was cleaning her new apartment and came upon her Birchbox subscription box. Ely was tight on cash and thought she'd cancel the service. Then, she thought she'd rather spend the Birchbox money on underwear. That night she made a website and Bootay Bag was born.
Ely has since moved back to the San Francisco area and five years later, business is booming. Initially she only had friends and family as customers, but she grew the business organically by creating a community of women and encouraging feedback from customers. In classic entrepreneurial fashion, she figured things out as she went along and the results are excellent.
The concept is pretty simple. Go to the Bootay Bag website, pay $15, and enter your size. You can customize style and color or opt to let Ely and her team "mix things up" for you. During the next two weeks or so, you'll get two matching sets of bra and panties in the mail. Every month thereafter, two new, different sets come. Of course, you can cancel at any time. A portion of every sale goes to donating underwear and other necessities to women in need.
Ely hopes her business will change buying underwear from a chore to a treat. She also claims she wants to make snail mail "sexy." She likely wants a Shark's cash and assistance taking the business to the next level. Will a Shark slip into this underwear?
My Take on Bootay Bag
I am obviously not a customer, so I showed this business to my wife and asked her what she thought. She liked the idea and felt $15 for two sets of bra and panties was reasonable. She remarked "I have bras that cost twice what she's asking for two sets!" She even asked to try it out and see, so  Ely may be getting business from my house after all!
Will Sharks put a deal in the bag?
Ely has the good fortune of pitching to Kendra Scott. Scott started her billion dollar empire in a spare bedroom 17 years ago. She'll like Ely's story and will, at the very least, offer her good advice. I think Mark will like the story too – he'll like Ely's bootstrapping hustle. Mark has also invested in subscription services in the past.
That said, I am going to go out on a limb and say Mark and Kendra team up to  do a deal.